politics
Corbyn's 2017 Electoral 'Youthquake' Didn't Happen, Study Says
By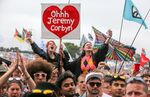 The "youthquake" that helped opposition Labour Party leader wipe out U.K. Prime Minister Theresa May's majority in the 2017 election perhaps didn't actually happen.
That is the takeaway from a study based on face-to-face interviews with 2,194 eligible voters between June 26 and Oct. 1. The academics working on the British Election Study dismissed as a "myth" the notion that gained prominence after last year's vote that Labour had been boosted by a surge in turnout among the youngest voters. 
They said the impression was likely created by anecdotal evidence such as Corbyn being often photographed by crowds of young people, and attracting the adoring chant of "Oh Jeremy Corbyn" at last year's Glastonbury music festival.
Instead, they found that there was likely to have been a small increase in turnout across most ages since the 2015 election, particularly among those aged 30 to 40. While the probability of voting Labour was at its greatest among the youngest voters, that was true too in 2015, according to the data.
The likelihood of voting for the opposition party increased across all age groups up to the early 70s, the researchers found.
"The Labour 'youthquake' explanation looks to become an assumed fact about the 2017 election," the British Election Study team of five academics from the University of Manchester and the University of Oxford wrote in an online commentary. "But people have been much too hasty. There was no surge in youth turnout at the 2017 election."
Before it's here, it's on the Bloomberg Terminal.
LEARN MORE