politics
Trump Won't Announce Nafta Withdrawal in State of Union, Sources Say
By and
Speech would be high-profile venue to address campaign pledge

President said in Davos he sees 'good chance' of new deal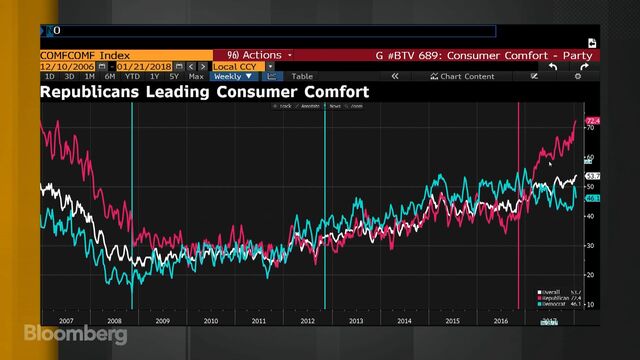 President Donald Trump doesn't plan to use his first State of the Union address to announce a formal intent to withdraw from Nafta, say people familiar with the administration's plans.
Trump speaks Tuesday, a day after the sixth round of North American Free Trade Agreement talks is set to conclude in Montreal. The latest round has shown progress, and at Davos, Switzerland, last week Trump saw a "good chance" for a deal. Still, the president left open the possibility that he'll pull out of the 24-year-old pact if discussions aren't favorable enough to the U.S.
Key lobbying groups, including farm organizations and the U.S. Chamber of Commerce, have voiced their support for Nafta, putting pressure on Trump to not give the six-months' notice necessary to quit the deal (a country isn't obliged to withdraw from Nafta, even after giving formal notice to do so). Stakeholders had privately feared that a deadlock in Montreal could lead Trump to pull the trigger.
The president doesn't plan to use the annual speech to Congress to make such a move, said the people, who weren't authorized to speak publicly as negotiations continue. The State of the Union is typically watched by tens of millions of Americans and would be a prominent venue to make good on one of Trump's signature campaign promises.
For more on Trump's State of the Union speech, click here.
Trump's protectionist leanings have put him at odds with the establishment side of his Republican Party. He walked away from the Trans-Pacific Partnership, a Pacific Rim trade pact, during his first week in office, and this month slapped tariffs on solar-panel and washing machine imports. Trump is considering similar actions on aluminum and steel imports to bolster U.S. manufacturers.
The Montreal talks showed progress, with an agreement to close the chapter related to anti-corruption, the first such section of the agreement to be finalized since October.
People familiar with talks say they've been given private indications Trump isn't planning to give any notice during his speech. The U.S. Trade Representative's office is said to have not given any indications of Trump's State of the Union plans on the sidelines of the Nafta talks, the people said.
As recently as Thursday in Davos, Switzerland, Trump kept a cliffhanger going on the fate of the trade agreement, which he's repeatedly assailed as a "horrible" deal for US businesses. "I may terminate Nafta, I may not," he said in an interview with CNBC.
Nafta took effect in 1994 and includes the U.S., Canada and Mexico, three countries that trade $1 trillion annually in goods. Talks to modernize the accord began in August and were scheduled to at least March. A Canadian negotiator this week said the talks, which so far haven't reached agreement on dozens of contentious issues, could stretch into 2019.
(
Updates with agreement on anti-corruption chapter in sixth paragraph.
)
Before it's here, it's on the Bloomberg Terminal.
LEARN MORE