Trump Moving On to Infrastructure Push
By , , and
Immigration and foreign policy agendas likely to be discussed

President said to seek bipartisan tone after year of conflict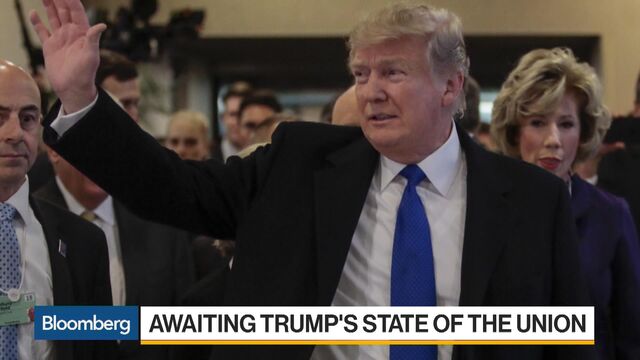 President Donald Trump plans to use Tuesday's State of the Union address to build momentum for sweeping legislation on infrastructure and immigration that could buoy the White House and fellow Republicans ahead of crucial midterm elections.
Emboldened by a booming economy and victory in his stare-down with Senate Democrats over government funding, Trump will make the case that the Republican tax cuts passed in December and his administration's efforts to curb regulations are drawing investment to the U.S. and creating jobs, said a White House official who discussed the speech on condition of anonymity.
There are few obvious areas for compromise, and little incentive to do so among increasingly polarized lawmakers whose chief concern remains an upcoming election season primed for a wave of votes protesting Trump. Yet the president also aims to strike a bipartisan tone, the official said -- a stark departure from his address to Congress a year ago. That speech delighted supporters, who saw his on-script performance as evidence that Trump, a mercurial political novice, could seize the power of the bully pulpit.
Future-Focused Vision
This year, aides say, he'll offer a future-focused vision. His agenda, the official said, includes a long-anticipated plan to rebuild and improve the nation's infrastructure, continuing efforts to cut regulations, and an overhaul of the immigration system -- campaign promises that got set aside last year as the administration focused on efforts to repeal Obamacare and pass the tax overhaul.
Lawmakers are keenly aware of Trump's unpopularity. Just 36 percent of Americans approve of the job the president is doing, according to a Quinnipiac poll released on Jan. 25. A RealClearPolitics average of recent surveys puts Trump's approval rating at 40 percent. And the White House remains mired in the months-long investigation into Russian interference in the 2016 election.
For that reason, Trump is expected to devote much of the speech to an effort that's so far proven elusive -- convincing Americans to give him credit for a booming stock market and positive employment numbers.
Trump's immigration plan, unveiled Thursday, will offer deportation protection and a pathway to citizenship for as many as 1.8 million people who were brought to the country illegally as children. In exchange, the White House wants $30 billion for additional border and port security, and the construction of a wall on the U.S.-Mexico border -- a proposal Democrats have fiercely opposed. 
Rhetorical Battle
Trump also wants to limit a program that gives preferential status to the families of U.S. citizens and immigrants, and eliminate the visa lottery program.
Critics say the president's plan would sharply curtail legal immigration and waste money on a barrier that would prove difficult to build and only a slight deterrent to illegal immigration. But the White House says they'll win any rhetorical battle where they can paint Democrats as holding out for the benefit of undocumented immigrants -- and point to the quick surrender during the government shutdown earlier this month as a signal of their strength.
The president is also expected to highlight his administration's protectionist trade policies, saying the withdrawal from and renegotiation of international trade agreements has helped retain American jobs. He's not expected, though, to use the widely-watched speech to announce a formal intent to withdraw from the North American Free Trade Agreement.
Trade Deals, Tariffs
On Thursday at the World Economic Forum in Davos, Switzerland, Trump pitched global business leaders on expanding their footprint in the U.S. He also said he'd be open to reconsidering the Trans-Pacific Partnership, after pulling the U.S. out of the Pacific Rim trade pact as one of his first moves in office.
Earlier this month, the president slapped new tariffs on washing machines and solar panels in a bid to help domestic manufacturing. The administration is weighing similar measures over aluminum and steel dumping, and on intellectual property theft.
Central to the president's push for bipartisan support is an infrastructure plan that could help revitalize the country's roads and waterways. The White House proposal, which would include about $200 billion in federal spending, is designed to encourage states, local governments, and private entities to match federal dollars.
Federal Outlays
While Trump estimated as recently as last week that the overall infrastructure investment could reach $1.7 trillion in total spending, Democrats have argued for more direct federal outlays, and say the plan could benefit real estate developers and leave crucial but unprofitable projects unaddressed.
Foreign policy will almost certainly take up significant part of Trump's State of the Union speech, with the president looking to burnish his resume in an area where many voters give him low marks. Just 38 percent of Americans approve of the way Trump is handling foreign affairs, according to a Reuters/Ipsos poll released last on Jan. 24, with a majority - 55 percent - disapproving.
That's driven in no small part by the president's high-stakes feud with North Korean leader Kim Jong Un, whom Trump has provocatively labeled "Little Rocket Man" and dismissed as possessing a smaller "nuclear button." Trump is likely to strike a more measured tone in Tuesday's address, and could again signal his openness to direct talks with North Korea under the right circumstances.
The president may also address his desire to increase pressure on the government of Iran, even as many world leaders warn him against actions that could undermine the 2015 accord that halted the Iranian nuclear weapons program in exchange for sanctions relief.
"I still think the president is struggling to articulate what American leadership means," said Jon B. Alterman, director of the Middle East program at the Center for Strategic and International Studies in Washington. "The president's big challenge has been how to lead in ways that people are eager to follow."
Before it's here, it's on the Bloomberg Terminal.
LEARN MORE