markets
Wild Week in Davos Snow Sends Currencies on Slippery Slopes
By
Mnuchin, Trump dollar talk roiled foreign-exchange markets

Policy makers deliver rebuke to U.S. after markets jolted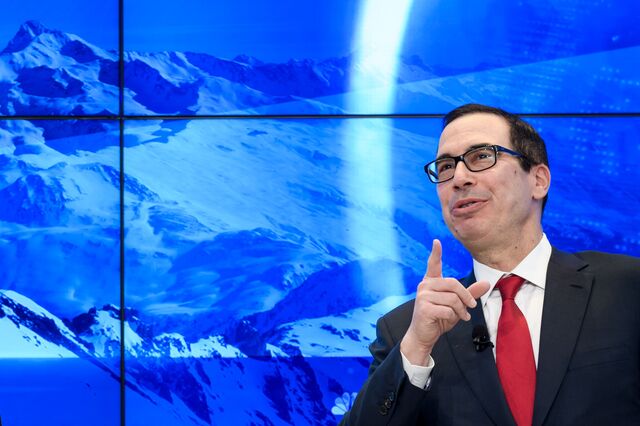 Follow our full coverage of Davos 2018 here.
The world's central bankers have currencies back on their radar after a week when the dollar was whipsawed by comments from President Donald Trump's administration that then drew criticism from international policy makers.
The volatility was sparked as Trump and Treasury Secretary Steven Mnuchin sent mixed messages on the dollar during their trip to the World Economic Forum in the Swiss ski resort of Davos, an annual gathering of the world's political and economic elite.
While Trump ultimately spoke up for a "strong" greenback, investors continue to speculate that he is comfortable with the dollar's worst start to any year since 1987. That may encourage the Federal Reserve to keep raising interest rates, but could prevent foreign counterparts from following as their currencies climb against the dollar.
"Central bankers will be paying more attention to currencies, setting monetary policy," Ray Dalio, founder and co-chief investment officer of Bridgewater Associates LP, said on a Davos panel Friday hosted by Bloomberg Television's Francine Lacqua. "Ordinarily it's growth and inflation, but growth and inflation and currency will be the factor in the next year."
Very Stable
Mnuchin commented Wednesday that the weak dollar was good for U.S. trade, sending the greenback to a three-year low amid fears the U.S. was stoking a trade war and willing to use the currency to win it.
By that evening, White House Press Secretary Sarah Sanders was saying "we have a very stable dollar." On Thursday, Mnuchin said he had been "consistent" with the U.S.'s long standing strong-dollar policy, and hours later Trump told CNBC that "the dollar is going to get stronger and stronger" and that he wanted to see a robust currency.
While President Trump pulled the dollar up off the mat, the comments from Mnuchin may leave a lasting mark. The dollar is weaker against all of its major counterparts this week , the Bloomberg Dollar Spot Index is down 1.5 percent and on a run of seven successive weekly declines, and the JPMorgan Global FX Volatility Index jumped to the highest since Oct. 2. The dollar moves also sparked a chain reaction through commodity, stock and bond markets.
The verbal interventions drew stinging rebukes from policy makers including European Central Bank President Mario Draghi and others who highlighted an existing agreement among G-20 nations not to jawbone their currencies.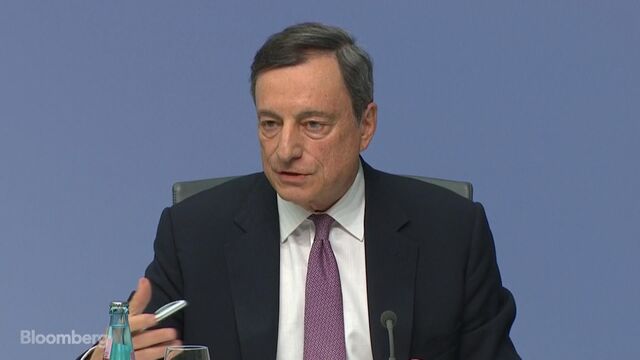 "We have seen lots of volatility being created recently by different statements, I think that's not helpful," ECB policy maker Benoit Coeure said on the Bloomberg panel. "Any discussion on the exchange rate should be sent back to where it belongs, that is multilateral bodies."
The nervousness in currency markets means policy makers will need to tread cautiously, said Min Zhu, chairman of the National Institute of Financial Research in Beijing and a former deputy managing director at the International Monetary Fund
"It is confusing," he said. "I don't think it's a currency war, but the authorities ought to be very careful."
Mnuchin is factually correct in saying that a weaker dollar should boost trade, something that would help Trump achieve his goal of pushing U.S. economic growth above 3 percent annually.
Read more: U.S. GDP Grows Below-Forecast 2.6% on Trade, Inventory Drags
For the Fed, a falling currency could boost import costs and so aid its struggle to lift inflation to its 2 percent target.
"The Fed will see the weak dollar as a sign of easy financial conditions and a green light to keep tightening monetary policy," Aditya Bhave and Ethan Harris, economists at Bank of America Corp., said in a report published on Friday.
However, if the drop becomes disorderly, the intensifying inflationary pressures might force the central bank to raise rates faster than would otherwise might want to. Should long-term bond yields rise as well, that could slow the economy and make it more costly to finance the nation's ballooning budget deficits.
Spillover Effect
As for central banks elsewhere, rising currencies could weaken inflation and exports in their economies at a time when many were hoping to follow the Fed in starting to normalize monetary policy. Euro and sterling exchange rates are among those to have gained in the early part of 2018.

"For non-U.S. developed market central banks, the plunge in the dollar has complicated exit plans from monetary accommodation," the Bank of America economists wrote.
They added that the dollar dip also risks an over-tightening of financial conditions in China and could delay rate hikes in some Latin American economies.
For now, euro-area policy makers including Draghi point to the region's improving economic outlook as a source for the single currency's strength. U.K. Chancellor of the Exchequer Philip Hammond also told Bloomberg on Thursday he is "very happy" with where the pound is. Bank of England Governor Mark Carney has not commented recently.
"I prefer not to talk about currencies at all, except perhaps to interpret their moves," Bank of Canada Governor Stephen Poloz said on Friday. "Exchange rates are what they are. Companies take them into account, central bankers take them into account."
— With assistance by Brendan Murray, and Paul Dobson
(
Adds Bank of America report.
)
Before it's here, it's on the Bloomberg Terminal.
LEARN MORE