markets
ECB Officials Follow Draghi in Reminding U.S. of Currency Pact
By and
ECB is confident in path of inflation but patience is needed

Villeroy de Galhau, Coeure comment during WEF in Davos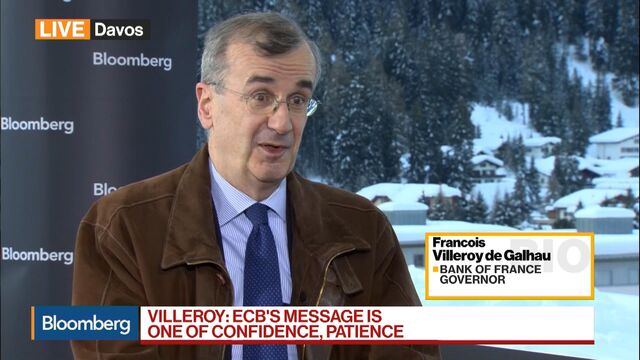 Follow our full coverage of Davos 2018 here.
European Central Bank officials Francois Villeroy de Galhau and Benoit Coeure joined a chorus of policy makers defending a global pledge to refrain from currency devaluations.
Responding to a debate at the World Economic Forum in Davos, where Treasury Secretary Steve Mnuchin stated that a weak dollar was good for U.S. trade, Villeroy argued in a Bloomberg Television interview that the commitment is founded on confidence, pointing to a statement issued by members of the International Monetary Fund in October.
"What we all said, including the new U.S. administration, was that we will not target our exchange rates for competitive purposes," the Bank of France governor told Francine Lacqua. "This sentence is very important. It remains the rule of the game. It's a rule of mutual trust."

Coeure, who sits on the ECB's Executive Board, echoed those remarks by pointing out that volatility created by different statesmen is "not helpful."
"We live in a world where exchange rates are not to be targeted for competitive purposes and that's what the G-20 has agreed and let's just stick to this," he said.
The comments are the latest in a debate that this week drew in both IMF Managing Director Christine Lagarde and ECB President Mario Draghi. He said on Thursday that although the recent strengthening of the euro partially stemmed from improving economic fundamentals, he was concerned about currency moves caused by public statements. 
Inflation Impact
The ECB has said it will monitor the impact of exchange-rate moves on the inflation outlook, which will be crucial in determining the central bank's process of slowly winding back unprecedented stimulus. Price growth in the 19-nation euro area remains muted even as the economy enjoys a solid, broad-based expansion, Draghi said following the Frankfurt-based institution's latest policy update on Thursday.
"The message we expressed yesterday was a message of confidence and patience -- confidence because we are confident that the path of gradual normalization of monetary policy is progressing in an efficient way," Villeroy said. "And patience because we're not yet there."
Policy makers reiterated that they intend to buy 30 billion euros ($37 billion) of debt a month until at least the end of September, keep interest rates at present levels for an extended period and reinvest the proceeds from maturing debt.
There is "extreme clarity until September," Villeroy said. "We still have three or four monetary policy meetings to decide."
Before it's here, it's on the Bloomberg Terminal.
LEARN MORE