politics
Trump the Salesman Urges Davos to Stop Worrying and Buy American
By
'America First' isn't popular at Swiss conference but money is

President argues that his policies are making people wealthier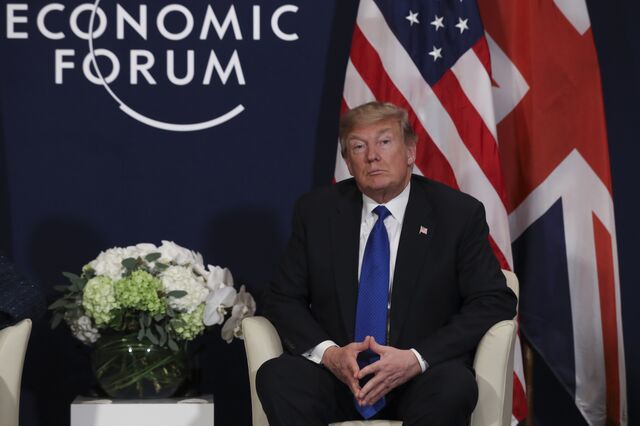 Davos may have been expecting Donald Trump the flamethrower on Friday. Instead it got Donald Trump the salesman.
The U.S. president may as well have been standing in front of a giant American flag as he declared in an address to the World Economic Forum: "America is open for business, and we are competitive once again."
The speech was a jarring transition from Trump's first day at the mountain gathering in Davos, Switzerland, where he dominated the event with his trademark bravado, spontaneity and camera-grabbing disruption. It was a measured, respectful and thoroughly scripted pitch to an unfamiliar audience of global elites. But it was a pitch all the same.
And Trump, apart from an unscripted aside about the "vicious" and "fake" press that drew boos, kept to the sales job.
Unemployment's down. Business and consumer optimism is up. The U.S. economy is growing. The tax cuts Trump signed into law late last year are "the most significant" in history. Regulations are going away.
'Perfect Time'
"Now is the perfect time to bring your business, your jobs, and your investments to the United States," Trump proclaimed.
Forgive the wealthy elites, central bankers and assorted other globalists at Davos if they looked past Trump's insistence that his "America First" agenda would benefit the world, not just his country, or his dubious commitment to free trade, or the reminder that he's trying to restrict U.S. immigration and take in fewer refugees. The American president wants to make them even more money.

"We entrepreneurs are for business, and it's good to hear about business," said Moretti Polegato, chairman and founder of Italian shoemaker and retailer Geox SpA.
Martin Sorrell, the president and chief executive officer of public relations giant WPP Plc, heard a similar message from Trump.
"The U.S. is open for foreign direct investment, we're open for business," Sorrell said. "He talked about trade, free trade but fair trade, doesn't want to see America exploited. And lastly he said 'look what I've done so far,' which is the tax plan which was implemented faster than people said and at a lower rate than people thought, and is highly stimulative."
'Trumpian Speech'
"It was a good Trumpian speech," he said.
The corporate world had already embraced Trump at Davos. The night before the speech, the president hosted a dinner for European executives, where the White House let reporters observe the opening 20 minutes. It was reminiscent of White House meetings in which his Cabinet members take turns ingratiating themselves to the president. Similarly, Trump invited the businessmen -- they were all male -- to describe how they were helping to make America great again.
"It's kind of amazing to have all your customers talking about adding jobs and growing their business," Bill McDermott, the CEO of software company SAP SE said of his fellow executives. "And it's just a real tribute for the momentum that you've created in a global economy."
There were rumors before Trump's speech of a boycott or a walkout, but instead the conference participants lined up for the show. One of the president's fiercest critics said that Trump's speech wasn't bad, for Trump.
"He only spoke for 15 minutes and had a script; even he can manage to hold it together for that long," Anya Stiglitz, the wife of Nobel Prize-winning economist Joseph Stiglitz, said after the speech. She sat in the audience while Trump spoke wearing a t-shirt that read "not my president."
Overflow Room
In an overflow room of more than 100 people, there was loud booing both at Trump's remarks about the media and at his "America First" explanation.
"He's giving tax cuts to rich people and screwing the poor," Stiglitz added. "He's not up to the job."
And in some cases, the corporate embrace of the president is still delicate. Tupperware CEO Rick Goings skipped Trump's speech to go meditate after seeing the heavy crowds.
"I have to separate the person from the administration and policy," Goings said. "He makes a strong case for taking actions to level the playing field with regard to taxes."
Davos isn't Donald Trump's kind of place -- and Trump isn't Davos's kind of world leader. But as long as he keeps the business world happy, his first visit may not be his last.
— With assistance by Simon Kennedy, Jackie Simmons, Stephen Morris, Javier Blas, Alessandro Speciale, and Benedikt Kammel
Before it's here, it's on the Bloomberg Terminal.
LEARN MORE