business
Denmark Criticizes Dollar Signal From `Certain' U.S. Politicians
By
Danish prime minister says U.S. trade tariffs are a worry

Trump's climate agenda is shifting climate talks to states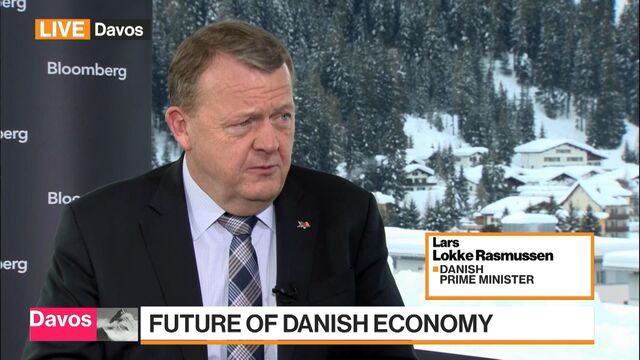 The prime minister of Denmark criticized currency-market signals coming from the U.S. after a week in which Treasury Secretary Steven Mnuchin appeared to support a weaker dollar.
"I must honestly say that I didn't really like the signals sent by certain American politicians a few days ago," Danish Prime Minister Lars Lokke Rasmussen said in an interview with Bloomberg Television's Francine Lacqua on Friday in Davos, Switzerland.
President Donald Trump has since declared that the dollar would continue to strengthen and that comments by Mnuchin had been taken out of context.
The initial remarks drove the dollar lower against the euro. Denmark isn't a part of Europe's single currency bloc but pegs its krone to the euro in a tight band defended by the central bank. Danish interest rates have been negative for more than half a decade, as the AAA-rated country tries to counter demand for its assets.
Mnuchin's comments on the dollar added to concerns in Europe of a potential currency war, amid growing signs of protectionism with the U.S. government now imposing tariffs on some products.
The Danish prime minister says he's worried by the trade signals coming from the Trump administration. "That's not good for the world economy, honestly speaking," he said.
"But then again, it gives opportunities for Europe because if some turn their backs on the future -- I would put it that way -- it creates opportunities for Europe and I think Europe is in a position where we should reach out."
Rasmussen said European leaders are seeing "an increasing Chinese interest" in the region as global trade flows respond to the signals coming from the U.S.
Asked whether there's any hope that the Trump administration might adopt a more climate-friendly agenda, Rasmussen said "I don't expect much in that regard."
"But it's nice he's here in Davos," he said.
Leaders dealing with the U.S. government need to remind themselves that it's "not only" Trump, Rasmussen said. "The U.S. is much more than just Washington, even though Donald Trump has turned his back on the climate agenda, you see a lot of governors" taking the lead. He said Denmark has had multiple talks with U.S. states. Governments such as California are "working perhaps even harder on this agenda," and that creates "a lot of business opportunities," Rasmussen said.
— With assistance by Peter Levring
Before it's here, it's on the Bloomberg Terminal.
LEARN MORE