politics
Trump Wanted to Fire Mueller Last Year, Sources Say
By , , and
President's push is said to have raised concerns among staff

White House counsel McGahn threatened to quit, Times reports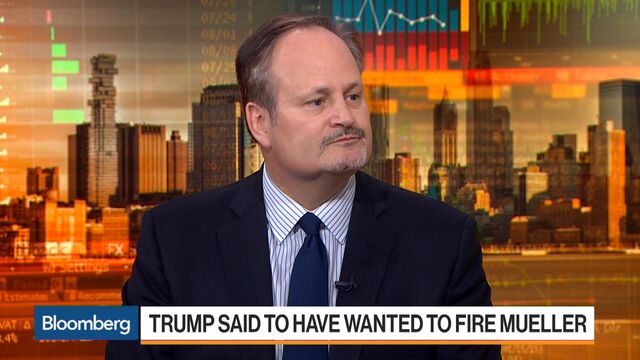 President Donald Trump wanted to fire Special Counsel Robert Mueller in June, three people familiar with the matter said, raising concerns among his top aides and closest supporters that Trump would put himself in legal jeopardy.
Trump ultimately relented after his White House counsel Don McGahn refused to carry out the order and threatened to resign, the New York Times reported late Thursday. Trump called the story "fake news" as he arrived at the World Economic Forum in Davos, Switzerland on Friday.
The news of the president's desire to fire Mueller -- who's investigating whether there were ties between Trump's campaign and Russia -- emerged as the special counsel appears to be wrapping up a key phase of his inquiry, one focused on possible obstruction of justice. Mueller has interviewed several members of Trump's team about about the circumstances surrounding Trump's firing of National Security Adviser Michael Flynn and FBI Director James Comey.
When contacted about the Times report, White House lawyer Ty Cobb said Thursday that "out of respect for the special counsel and his process we don't discuss things of this nature."
One person close to Trump, who spoke on condition of anonymity, said that White House aides were deeply concerned last year that the president also would try to fire Mueller, to the point that senior advisers discussed it openly. All three of the people spoke on condition of anonymity.
What Might Happen If Trump Orders Mueller Fired: QuickTake Q&A
Already, some in Congress are considering legislation to prevent such a thing from happening. The reports on Thursday evening prompted a renewed warning from Senator Mark Warner of Virginia, the top Democrat on the Intelligence Committee.
"Firing the Special Counsel is a red line that the President cannot cross," Warner, whose panel has been conducting its own investigation into the 2016 race, said in a statement. "Any attempt to remove the Special Counsel, pardon key witnesses, or otherwise interfere in the investigation, would be a gross abuse of power."

Trump and his supporters have often dismissed and mocked the special counsel's investigation into Russian interference in the 2016 election, calling the probe a "witch hunt." As part of the inquiry, Mueller is looking into whether there was collusion between Russian operatives and the Trump campaign.
On Wednesday, shortly before he left for the World Economic Forum in Davos, Switzerland, Trump said that he would be willing to be interviewed by Mueller under oath.
"I'm looking forward to it," Trump said of a meeting with Mueller, which he suggested could happen in about two to three weeks.
'No Collusion'
"There's no collusion whatsoever," Trump said during an impromptu appearance before reporters at the White House Wednesday evening. "There's been no obstruction whatsoever."
Cobb said later Wednesday that the arrangements for any interview were still being worked out.
Earlier in the week, current and former U.S. officials said that the special counsel has been moving at a rapid clip for at one part of his inquiry -- whether Trump obstructed justice.
Mueller has quietly moved closer to those around Trump by interviewing Attorney General Jeff Sessions, Director of National Intelligence Dan Coats, National Security Agency Director Michael Rogers and former FBI Director James Comey in recent weeks, officials said.
Probe to Continue
Even if Mueller wraps up the obstruction probe, other elements of his investigation -- such as whether Trump or anyone close to him helped Russia interfere in the 2016 presidential election or broke any other laws -- are likely to continue for months more, said two officials who asked to remain anonymous speaking about the investigation.
John Dowd, a lawyer for Trump, released a document earlier Thursday that he said showed "how much this president has done" despite the "false media drumbeat of obstruction." It says more than 20 White House officials have been interviewed by Mueller's team, including eight from the general counsel's office, as have 28 people who worked for the Trump campaign or were affiliated with it.
The White House has turned over 20,000 pages of documents, including more than 5,000 pages related to Flynn and almost 7,800 pages on Comey, according to the memo. It says the Trump campaign turned over 1.4 million pages.
(
Updates with Trump reaction in second paragraph.
)
Before it's here, it's on the Bloomberg Terminal.
LEARN MORE