Brexit Bulletin: The Fight's Back On
By
Hammond's comments on a 'modest' Brexit spark outrage

May pushes back against the remarks made in Davos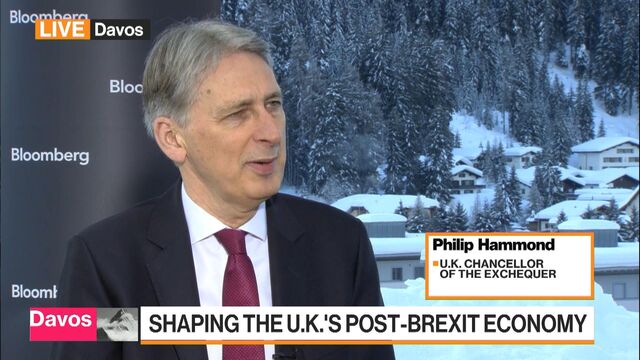 Sign up to receive the Brexit Bulletin in your inbox, and follow @Brexit on Twitter.
Just as the government appeared to have stumbled toward a Brexit policy that could keep most bits of the Conservative Party on board, the uneasy truce was dramatically shattered as pro-European Philip Hammond overplayed his hand, enraging euroskeptics and prompting a slap down from the prime minister.
The chancellor, the lead campaigner in government for the softest possible Brexit, said in Davos that the split should only mean the U.K. economy moves "very modestly apart" from that of the European Union. Brexit backers distrust Hammond and already think he wants to thwart the divorce. His comments prompted outrage. By the evening in London, Prime Minister Theresa May's office was distancing itself from his remarks, saying the changes she had in mind could not be described as "modest."

May needs the backing of pro-Brexit lawmakers to keep her job, and they have become increasingly vocal in recent weeks as it's become clear the government wants to keep the U.K. aligned with EU regulations after Brexit to facilitate trade. While most of the Cabinet appear to be on board — including Brexit-backers such David Davis, Liam Fox and Michael Gove — Foreign Secretary Boris Johnson is ramping up a campaign for his vision of the divorce, and euroskeptic lawmakers have a new leader in the popular hardliner Jacob Rees-Mogg.
Rees-Mogg went on the attack yesterday, telling the Telegraph that if May enters into a customs union with the EU she will lose the support of about 60 Brexit-backing lawmakers. He warned against Brexit becoming an exercise in "damage limitation."
"The British people did not vote for that," he said. "They did not vote for the management of decline. They voted for hope and opportunity, and politicians must now deliver it."
Brexit Secretary David Davis, who on Wednesday set a vision of the divorce that would keep Britain aligned with EU rules after the split but with the possibility of diverging later, speaks this afternoon in Middlesbrough. He will talk about the transition — another source of anxiety to the pro-Brexit camp, who worry that the grace period designed to help business risks prolonging indefinitely EU membership in all but name.
Brexit Latest
Transition Fudge | As the EU presents its plan for the U.K.'s Brexit transition, many governments are willing to push the expiration date beyond the December 2020 deadline they'll set out as their official stance, Ian Wishart reports. During internal discussions in Brussels, several nations, including Hungary, Sweden and Ireland, lobbied for a more flexible approach to the length of the transition, three people familiar with the talks said. Privately, many EU officials believe the period will be prolonged as it becomes obvious to the U.K. government that the type of trade deal it wants will be difficult to reach within the the next three years.
Barclays Breaks Ranks | Barclays Chief Executive Officer Jes Staley told May to be prepared to sacrifice access to the single European market after Brexit if it means gaining control of its own financial rules, Stephen Morris reports. The American banker's comments come as U.S. President Donald Trump relaxes the reins on financial institutions, giving them a competitive advantage over the rest of the world.
In the Dark | Hammond gave the clearest statement yet by any government minister that lawmakers may not have all the facts when they vote on the Brexit deal. May has said Parliament will have a meaningful vote — and her spokesman stuck to that line on Thursday. But Hammond made clear what EU officials have been saying for some time: The withdrawal agreement will only contain an outline of the future trading relationship. "We would expect the high-level shape of the future relationship to be emerging by that time," he told Bloomberg Television in Davos.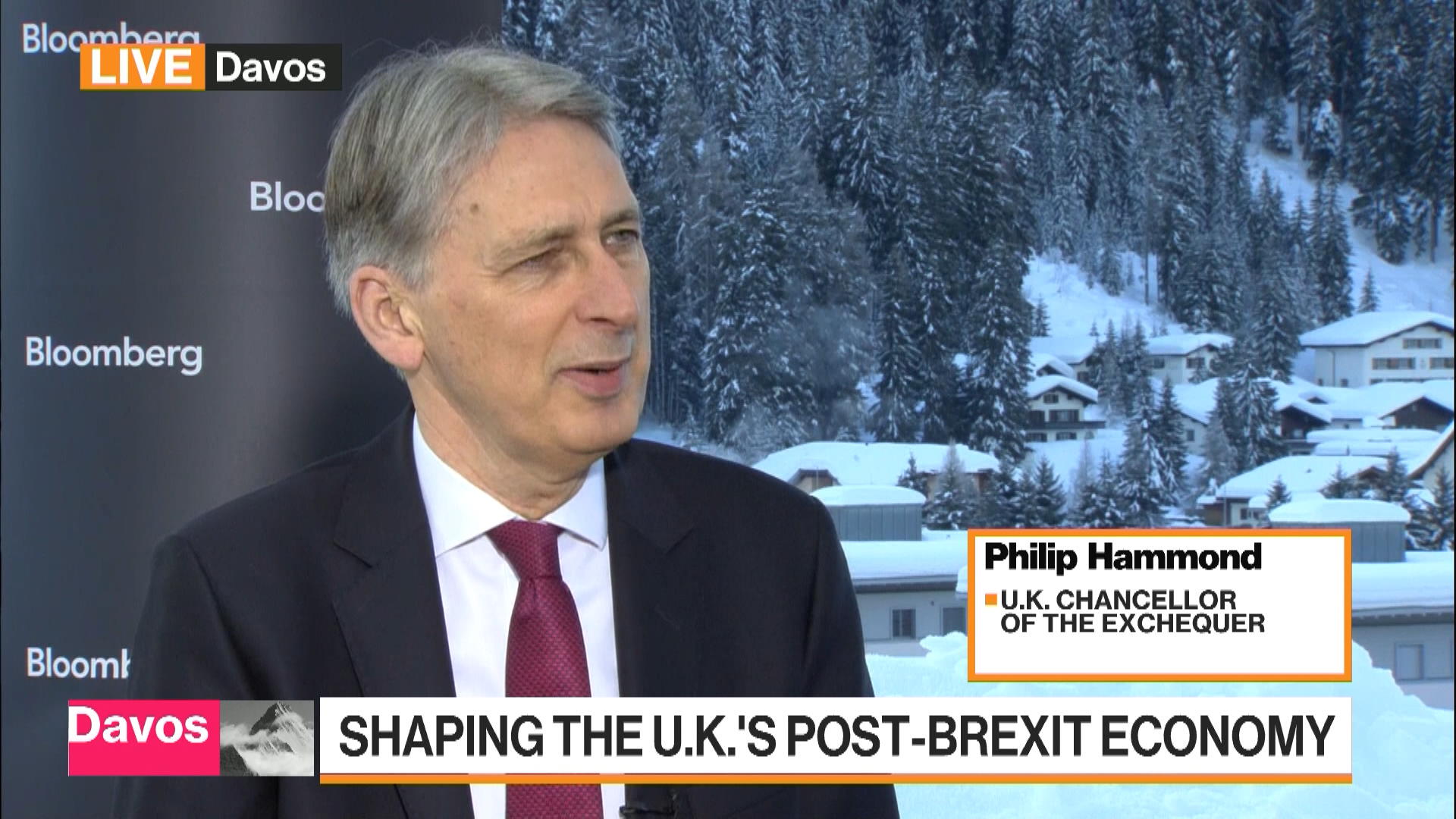 Russian Meddling | Twitter Inc. is facing renewed pressure from U.K. lawmakers over possible Russian interference in the referendum, after the company said an expanded investigation found little evidence of Kremlin activity. In a letter to a House of Commons committee investigating a potential link, Twitter said it reviewed a new batch of suspicious accounts but found little evidence of the kind of manipulation that was present in other campaigns. Facebook last week agreed to reopen its investigation into the referendum after pressure from lawmakers.
Norway Plus | Irish Prime Minister Leo Varadkar wants the U.K. to end up with a "Norway plus" style relationship with the EU after Brexit, even as he acknowledged there were "different perspectives" within the bloc on the future deal with Britain. "We're very enthusiastic about having a free trade agreement and customs union. I know a lot of countries in central and eastern Europe would have a similar view," he said in an interview with Bloomberg TV. "Other countries that are quite far away from the United Kingdom might not be as concerned."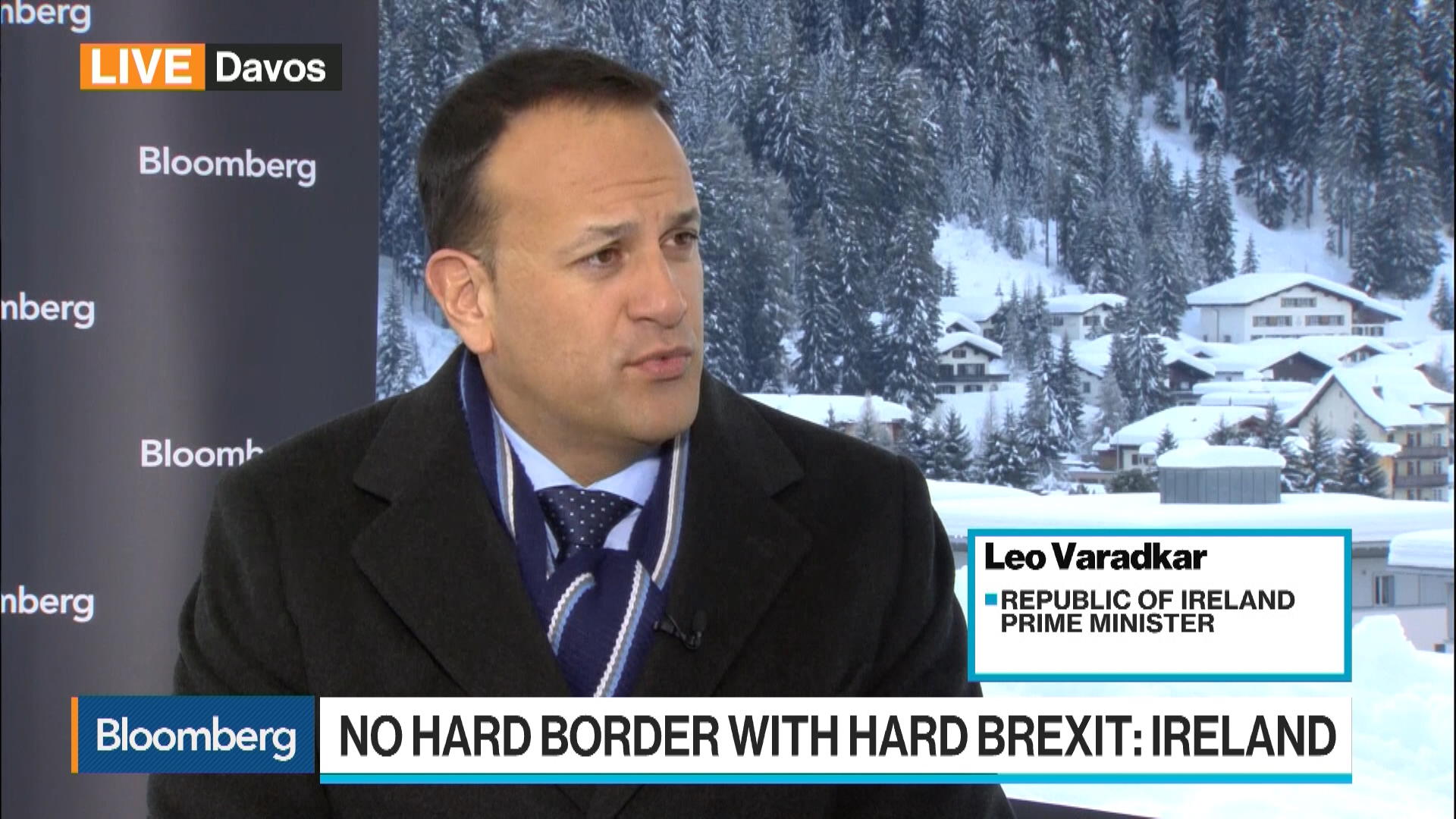 May's Future | Conservative lawmakers are considering another attempt to oust May, the Guardian reports. A vote on her leadership would be triggered if 48 members of Parliament write letters of no confidence, and that number hasn't been reached. There's some speculation that a bad result in local elections in May could be a catalyst for a coup.
On the Markets | "We're very happy with where the currency is at the moment," Philip Hammond said in Davos, adding that a stronger pound will tame inflation and help real wages.
And Finally...
What were the jokes that helped earn Hammond his rebuke from No. 10? Looking pretty relaxed in Davos, he cracked one at Boris Johnson before moving on to the prime minister herself.
"I saw there was an avalanche warning when we came in yesterday — and the foreign secretary isn't even here," Hammond said. "It was a walk in the mountain air that inspired the prime minister to call a general election, so I am discouraging her from any strolls." 
They don't seem quite so funny this morning.
For more on Brexit follow Bloomberg on Twitter, Facebook and Instagram
Before it's here, it's on the Bloomberg Terminal.
LEARN MORE