markets
Pakistan Unexpectedly Raises Rates for First Time in 4 Years
By and
Only 2 of the 26 economists in survey predicted the decision

Rate hike follows one day after Malaysia tightened policy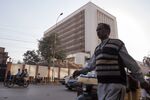 Pakistan's central bank unexpectedly increased its key rate for the first time in more than four years as a currency devaluation adds to inflation pressures ahead of elections this year.
The target policy rate was raised to 6 percent from 5.75 percent, State Bank of Pakistan Governor Tariq Bajwa said in Karachi on Friday. Only two of the 26 economists in a Bloomberg survey predicted the move, with most forecasting the rate would stay unchanged.
"We are pre-empting signs of economy overheating and trying to keep inflation under control," said Bajwa. He expects average consumer prices to remain between the target of 4.5 and 5.5 percent in the year ending June. The central bank expects the economy to grow 5.8 percent this fiscal year, missing the 6 percent target, Bajwa said.
The move comes a day after Malaysia's decision to raise interest rates and reflects growing concern about a build-up of inflation pressures ahead of July elections in an economy that's showing signs of stress. The nation's currency, which is a managed float, was devalued last month in the face of a widening current account deficit and dwindling foreign exchange reserves.
"The monetary easing period is over and now it's going to be a little tightening,'' Muzzammil Aslam, chief executive officer at EFG Hermes Pakistan Ltd., said before the decision. "Inflationary expectations are heightening due to the recent devaluation while the current account situation has hit an increasingly alarming level.''
"The cut and the devaluation in rupee signal they are going towards an IMF bailout package," said Fatiq Bin Khursheed, head of research at Next Capital Ltd., who was among the two analysts who correctly predicted the 25 basis-point hike. "This is the first of many hikes."
The rupee declined 4.8 percent against the dollar last month, the worst performer in Asia, while consumer prices rose 4.6 percent in December from a year ago, the highest in seven months. Pakistan's current account deficit increased about 60 percent to $7.4 billion in the six months ended December, according to the central bank.
(
Adds central bank governor comments in third paragraph; analyst comment in sixth paragraph.
)
Before it's here, it's on the Bloomberg Terminal.
LEARN MORE