Mueller's Probe Looms Over Trump's Davos Show
By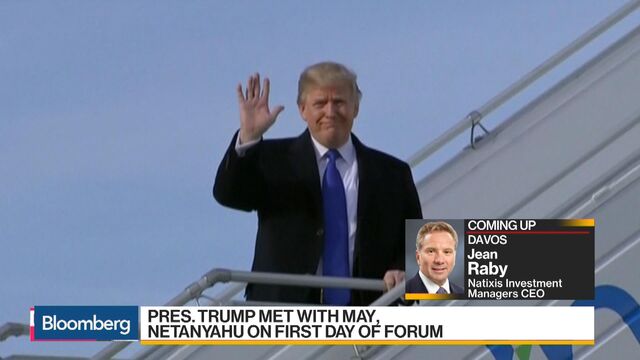 Want to receive this post in your inbox every morning? Sign up for the Balance of Power newsletter, and follow Bloomberg Politics on Twitter and Facebook for more.
As Donald Trump dominates Davos with his trademark bravado, spontaneity and camera-grabbing disruption, more trouble is brewing back home.
A report that the U.S. president was on the cusp of firing Special Counsel Robert Mueller in June (and only relented when White House counsel Don McGhan threatened to resign), is adding fuel to the biggest threat to Trump's presidency.
The latest plot twist surrounding Mueller's probe of possible ties between Trump's campaign and Russia risks distracting from the president's speech today to global elite at the World Economic Forum in the Swiss Alps. The remarks — just four days before Trump's first State of the Union address — are meant to be the highlight of a visit in which he's cultivated near celebrity status.
A billionaire CEO paused a private meeting to get a picture with Trump as he arrived yesterday, and the president ended his evening holding court surrounded by top executives from Europe's most important companies.
In between, though, it's been classic Trump. Within a matter of hours, he threatened to end U.S. funding for Palestinians, undercut his Treasury secretary's comments on the dollar and awkwardly made the case that his sometimes fractious relationship with British Prime Minister Theresa May was "really great."

Global Headlines
Davos, Day 4 | Trump's rare (albeit qualified) apology for retweeting anti-Muslim videos in November — a move that strained relations with the U.K. — is a top talking point this morning. Check out our special hub page for all the latest news, photos and features from the forum's final day.
Immigration impasse | Trump has offered Democrats a concession on immigration - but at a price they may be unwilling to accept. The administration last night proposed giving 1.8 million undocumented people brought to the U.S. as children a path to citizenship in exchange for other changes. Key Democrats are opposed, raising fresh questions about whether the stalemate could prompt another government funding showdown early next month. 
China builds a bigger watchdog | Beijing is considering a merger of its banking and insurance regulators as Chinese President Xi Jinping seeks to pay down his country's $28 trillion debt pile, Bloomberg News reports. Word of the move comes days after one of China's top financial officials, Liu He, promised WEF attendees reforms that would "exceed expectations" this year.
Cyberwar games target North Korea | U.S. forces in South Korea and the Pacific are honing their capability to conduct offensive cyber operations, a sign digital warfare is taking on added significance as a potential weapon against North Korea. The Pentagon's director of operational testing told Congress the office is working "to develop a cyber-range environment" where the allies "may be able to train as a coalition force on matters of critical importance to operations in a cyber domain." 
Russian ferment | Vladimir Putin is all but certain of extending his 18 years in power by winning a fourth term in March, but years of economic pain and corruption are sapping his support in the heartland, once his unassailable bastion. And as the Kremlin elite nervously awaits the release next week of a U.S. Treasury list of  "oligarchs" who could be targeted for sanctions, Bloomberg News reveals how costly the end of a marriage in the Putin family can be. 
Iran responds | Something surprising happened when Iranian authorities faced a social-media backlash after a yellow smog enveloped the southwestern Khuzestan region, shutting schools and offices and sending hundreds of people to the hospital. They acted. A decision to dispatch government officials and $100 million to the area showed a sensitivity to civilian demands that was rare before protests around new year swelled into the biggest challenge to ruling clerics in a decade.
And finally… A Lebanese comedian is in hot water over a joke about powerful Saudi Crown Prince Mohammed bin Salman. After a psychic advised the prince to cut down on fast food, Hicham Haddad advised him to cut down on "fast arrests, fast policies, fast military strikes" — an apparent reference to the recent corruption crackdown in Saudi Arabia, as well as its war in Yemen. Lebanon's judiciary was not amused, and sued Haddad for violating a law against insulting a foreign leader.

— With assistance by Gregory White, Ladane Nasseri, and Donna Abu-Nasr
Before it's here, it's on the Bloomberg Terminal.
LEARN MORE