politics
Merkel Steps Up Tempo of German Talks to Renew Alliance With SPD
By and
Chancellor's bid for fourth-term government on final stretch

Social Democrats to put any coalition pact to member ballot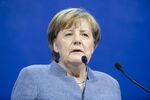 Chancellor Angela Merkel and her prospective coalition partners stepped up the pace of talks to end Germany's political impasse, setting a nine-day timeline for a final deal on a government platform.
Merkel's Christian Democratic-led bloc and the Social Democratic Party agreed on Friday to try to wrap up negotiations by Feb. 4. If that goal is met, the SPD plans to put the resulting coalition pact to a nationwide membership ballot, which would take several more weeks.
More than four months after her party won an inconclusive federal election, Merkel said a coalition of Germany's two biggest parties is within reach, even though a national convention of Social Democrats split on Sunday about whether to stay in government.
The Hurdles That Remain to Merkel's Fourth Term: QuickTake Q&A
"People expect us to move toward forming a government, so I'm going into these talks very optimistically but also focused on achieving results," Merkel told reporters earlier Friday in Berlin. "I think that's also achievable in a reasonable period of time."
Michael Grosse-Broemer, the CDU's parliamentary whip, said talks would culminate on the weekend of Feb. 3-4, "with the clear intention to bring the talks to a positive conclusion."
Two-Day Buffer
He said there would be a two-day buffer if extra time is needed. That would allow for conclusion of the talks in time for Carnival festivities in parts of Germany, when many lawmakers plan to be in their home districts.
SPD head Martin Schulz said his party will work "swiftly and constructively" with the aim of giving Germany a stable, strongly pro-European government with the CDU and its Bavarian sister party, the Christian Social Union.
"The new government has to return the Federal Republic of Germany to the role that our country must take in Europe," he told reporters.
Before it's here, it's on the Bloomberg Terminal.
LEARN MORE