business
Korean Ace Has Eyes on Australian Open Prize, Oakley Endorsement
By
IMG says brands clamoring to use Chung Hyeon to burnish image

Success on court makes Chung a 'walking SME,' says researcher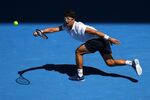 Tennis star Chung Hyeon's astigmatism isn't hurting his game and may be helping him win another endorsement contract.
His run into the Australian Open semifinal set a record for Korean players and has led to talks on a deal with eyewear maker Luxottica Group SpA's Oakley and a surge of interest from companies in using his image to burnish their brands in Asia.
South Korea's highest-ranked player ever, Chung made history this week by defeating former world No. 1 Novak Djokovic to become the first Korean in the quarterfinals of a Grand Slam tournament. Overnight, the bespectacled 21-year-old's Instagram followers exploded to more than 70,000 from about 6,000, said Stuart Duguid, who represents Chung at WME-IMG.
That's just one reason WME-IMG is in talks with the Oakley brand on an endorsement deal for Chung, said Duguid in an interview from Melbourne on Thursday. Chung's win over Djokovic will elevate his ranking to 36th, and the interest from potential and existing sponsors has been "unprecedented," said Duguid.
Those interests include an endorsement contract with Samsung Securities Co. under an agreement that will expire soon, said Duguid, opening the door to negotiate a more lucrative deal. Japan-based Yonex Co. is Chung's racket sponsor and his clothing deal is with Lacoste.
Samsung Securities started supporting Chung in 2012 along with other junior tennis players, a spokeswoman for the company said. She declined to comment on the financial details of Chung's deal with the company. A Luxottica spokesman wasn't immediately available to comment.
Read about competition among sports brands at U.S. Open here
Interest in Chung among fans and potential sponsors is climbing as his run at the Australian Open draws attention to tennis in South Korea, where baseball, golf and soccer have been the dominant sports. After winning the quarterfinal Wednesday, the 6'2" (188 centimeters) right-hander is set to take on world No. 2 Roger Federer, a 36-year-old who'll be competing Friday in the Melbourne semifinal for a record 14th time.
Should Chung defeat the Swiss veteran and five-time Australian Open winner, he will be only the second Asia-born man to make it to the final of a Grand Slam tournament, after Japan's Kei Nishikori beat Djokovic to earn a spot in the 2014 U.S. Open final.
Luxottica, the world's largest eyewear company that owns brands including Ray-Ban and REVO, got about 13 percent of revenue from the Asia Pacific region in 2016, compared with 59 percent for the U.S. and Canada and 19 percent for Europe, according to data compiled by Bloomberg.
A championship in Melbourne could be worth around $10 million for Chung, including the A$4 million ($3.2 million) purse and the related boost in endorsements and deals, estimates Chung Min, a research fellow at Hyundai Research Institute, who published a report about the economic effects of winning an Olympic medal.
"I expect the total value of money including tournament prizes, endorsements and commercial fees can jump by 10 times if he wins the Australian Open cup," Chung said in a phone interview. "As a semifinalist, he is a walking SME," he said, referring to small and medium enterprises.
Before it's here, it's on the Bloomberg Terminal.
LEARN MORE