markets
Kenyan Opposition Says It Has Evidence Odinga Won Election
By and
Court overturned August vote after opposition alleged rigging

Opposition plans to swear in Odinga as president on Jan. 30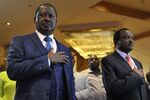 Kenya's opposition National Super Alliance said it has evidence that former Prime Minister Raila Odinga won the nation's Aug. 8 presidential election.
The alliance has a document containing "authentic, unpolluted, unadulterated" data that shows Odinga and his running mate, Kalonzo Musyoka, were the legitimate winners of the vote, Nasa Senator James Orengo told reporters Friday in the capital, Nairobi. Odinga garnered 8.1 million ballots in the vote, compared with 7.9 million for incumbent President Uhuru Kenyatta, Godfrey Osotsi, a Nasa lawmaker, said at the briefing.
"If anyone had any doubts as to why Raila should be sworn in as president of Kenya, if you go through this document you come to the conclusion" that Odinga won, Orengo said. "There was interference and manipulation of the results transmitted" by the country's electoral commission, he said.
Kenya's Supreme Court annulled the result of the August election in September, the first time an African tribunal has overturned the outcome of a presidential vote, after the electoral commission failed to disprove an opposition claim the ballot was rigged. Kenyatta was sworn in for a second term on Nov. 28, after winning a rerun in October that the opposition boycotted.
People's Assembly
While the results, if authenticated, are unlikely to have any legal significance, their revelation may reinvigorate the opposition's support base, which has dwindled since Odinga was declared the loser of the vote, said Dismas Mokua, an analyst at Nairobi-based risk advisory firm Trintari.
Nasa has called for the formation of a so-called People's Assembly, effectively a shadow government, that will demand fresh elections. It plans to have Odinga sworn in as the so-called people's president on Jan. 30. The government has said any such declaration would amount to treason.
"They're addressing their core supporters telling them that, in fact, they won the elections and they're supposed to be in office," Mokua said. "They're trying to validate what they intend to do on the 30th."
Kenyatta's ruling Jubilee Party said in a statement on its Twitter account that the opposition's plan to swear in Odinga based on the results of the August vote was "a strange turn," adding the hashtag #NullifiedAndIrrelevant.
Orengo urged the Independent Electoral & Boundaries Commission to open its servers to confirm the data it presented on Friday is genuine. The commission has so far failed to comply with a Supreme Court order that it grant access to its servers.
The commission dismissed the Nasa claim that it won the vote as a "myth," saying it's not the first time the assertion is being made.
"The presentation by Nasa totally misleads the public on the results pathway, the servers, information on the public portal and the forms used to declare results," IEBC acting Chairman Connie Maina said in a statement.
(
Updates with comment by Orengo in third paragraph.
)
Before it's here, it's on the Bloomberg Terminal.
LEARN MORE