markets
Rebate-Hating 'Flash Boys' Exchange Offers Discount to Traders
By
Rebates are 'biggest problem in markets,' IEX CEO once said

Argues its new discount doesn't pose a conflict of interest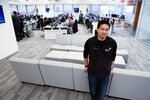 IEX Group Inc.'s top executive once called the rebates his stock exchange rivals pay some customers the "biggest problem in markets." Now, Brad Katsuyama's company is introducing a discount program that's puzzled some observers.
The exchange, whose fight against parts of the market it viewed as unfair was made famous by Michael Lewis's "Flash Boys," argued the program it revealed Thursday isn't conflicted like the one Intercontinental Exchange Inc.'s NYSE Group, Nasdaq Inc. and Cboe Global Markets Inc. use to entice traders.
IEX called its new system "a discount, not a rebate" in a blog post describing the changes.
"Not offering rebates ... but fee discounts," Larry Tabb, who founded capital markets research firm Tabb Group LLC, tweeted Thursday. "Not sure what the difference is." Tabb also linked to the blog post, written by IEX Chief Strategy Officer Eric Stockland, and said, "Eric (who I truly respect) is tied up in knots explaining this."
Read More: Barroom Debate on Stock-Trading Fairness May Finally Be Decided
Right now, IEX charges traders either 3 cents or 9 cents per 100 shares to execute orders. Under the proposed IEX Enhanced Market Maker system, they would get a 1-cent-per-100-share discount when meeting certain requirements.
The change relates to its plan to introduce a corporate listing business this year to compete with NYSE and Nasdaq. Traders must quote IEX-listed stocks at or near the best industrywide price a certain amount of the time to get the discount.
At NYSE, Nasdaq and Cboe, it mostly works like this: Traders who post orders for others to trade against are given up to 30 cents per 100 shares. The problem, according to IEX, is this influences where brokers send orders, prompting them to send trades to venues that pay them the most, not where their customers would be best served. The exchanges argue the payments ensure their markets have enough liquidity.
"IEX is proud to offer a market-making program that doesn't introduce a conflict into the marketplace," Eric Stockland, IEX's chief strategy officer, said in an emailed statement Thursday.
The U.S. Securities and Exchange Commission has plans to test whether the "maker-taker" system NYSE, Nasdaq and Cboe use is fair.
Before it's here, it's on the Bloomberg Terminal.
LEARN MORE