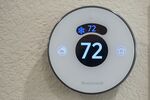 Lucky for Honeywell International Inc.: Somehow, it's able to fall short and still get cheers from investors.
On Friday, the maker of cockpit controls and warehouse-automation equipment increased its 2018 earnings-per-share guidance after reporting slightly better overall 2017 results than it had foreshadowed in December. The boosted range of $7.75 to $8.00 was less than what analysts had been expecting, however, with Honeywell taking a more conservative view of its new effective tax rate under the recently passed U.S. tax legislation. And that new tax rate is largely the only reason Honeywell is adjusting its guidance at all.
The company is sticking with a prediction that organic sales growth  -- or growth excluding the impact of currency swings and M&A -- won't surpass the 4 percent climb it saw in 2017. That's a perspective that's at odds with its own commentary about the momentum it's seeing in its markets, as well as analysts' thinking on its prospects. Organic growth in the fourth quarter was lower than Honeywell's most recent guidance, but the company blamed that largely on delayed deliveries in its aerospace division that should now benefit its sales in the beginning of 2018. "I can't think of a single business" that will be down compared to 2017, said Honeywell CEO Darius Adamczyk. "Overall, things look good, but we have to see."
It's hard to criticize a company for setting realistic goals it thinks it can beat. The alternative is obviously much worse, as evidenced by General Electric Co.'s dramatic fall from grace. Honeywell seems to be thoroughly enjoying being the antithesis of its old rival in almost every way right now. On a slide deck highlighting Honeywell's 2017 performance relative to its initial targets, Chief Financial Officer Tom Szlosek said "the 'do' matches our 'say'," picking up on a favorite catchphrase of GE CEO John Flannery. The difference is Honeywell actually follows through.
That said, Honeywell shares are valued at more than 20 times the company's potential earnings this year -- and that denominator reflects analysts' estimates, not its own guidance. Its historical average forward P/E ratio over the past decade has been closer to 15, according to data compiled by Bloomberg. What that means is that eventually Honeywell's earnings will have to catch up to analysts' rosier outlook for the stock to justify its nearly 40 percent gain over the past year. Management can be as conservative as it wants, but investors are looking into their own crystal ball.
To drive further momentum in the stock, management will have to give shareholders something more -- specifically, an acquisition that will help replenish the almost 20 percent of its revenue it's parting with via the spinoffs of its turbochargers and consumer-facing home technologies businesses. Honeywell on Friday said it plans to repatriate $7 billion of cash within two years, so it will have plenty of resources. Now it just needs to find a good target that both furthers Adamczyk's software ambitions and has enough in the way of tangible growth prospects to win over investors.
Honeywell also plans to use its tax-overhaul windfall to increase its 401(k) match for U.S. employees. Of all the tax-related giveaways we've seen companies announce -- and there have been a lot of head-fakes -- this seems to convey one of the smartest and longer-lasting benefits to employees. It also helps from a public-relations standpoint that Honeywell isn't concurrently announcing a massive round of layoffs (cough, Wal-Mart Stores Inc., cough).
Honeywell is riding high right now on many fronts, but its free pass from investors won't last forever.
Before it's here, it's on the Bloomberg Terminal.
LEARN MORE