Hollywood Claims a 101-Year-Old Actress Is a Threat to Docudramas
By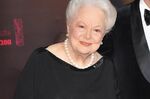 Actress Olivia de Havilland didn't like how she was portrayed in a docudrama series, so she went to court. Now, the film industry claims her lawsuit is a threat to the entire genre of fictionalized films based on real people and events.
If the 101-year-old Oscar-winning actress is allowed to pursue her claim that she was depicted as a "vulgar gossip" in an FX series called "Feud," studios would be on thin ice whenever they produce biopics or historical dramas, the Motion Picture Association of America and Netflix said in a joint court filing.
"Authors, writers, and directors cannot tell these types of stories if they are required to present every moment with 100 percent literal accuracy, without having any character utter a word that was not actually said, and without every event in the story taking as much time on screen as it did in real life," according to the filing.
A judge in Los Angeles state court said de Havilland could proceed toward trial against FX for violating her publicity rights and invading her privacy. But MPAA is urging an appeals court to rule that under the principle of free expression, a celebrity being offended or embarrassed isn't enough to justify a lawsuit. Instead, the group says, the "portrayal must be highly offensive to a reasonable person."
Before it's here, it's on the Bloomberg Terminal.
LEARN MORE