markets
Herro Excludes Most New Clients From Fund After $10 Billion Haul
By
Oakmark International had 2nd-most inflows among active funds

Stock fund gained 30% in 2017, beating 91% of rivals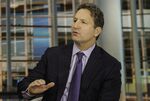 David Herro's popular mutual fund will close to most new investors after attracting $9.7 billion in new cash last year.
The $48.7 billion Oakmark International Fund will close immediately to new investors who buy funds through brokers and advisers. Existing shareholders and participants in retirement plans will still be able to contribute and new accounts can be purchased directly from Harris Associates LP, the Chicago-based firm said in a statement Friday.
The fund, which Herro has run since 1992, had the second-highest inflows of all active U.S. funds in 2017, according to Morningstar. The $107.8 billion Pimco Income Fund attracted $31.2 billion.
Controlling flows will protect "existing shareholders by maximizing our investment flexibility," Herro said in the statement.
Oakmark International gained 30 percent last year, better than 91 percent of rivals.
Before it's here, it's on the Bloomberg Terminal.
LEARN MORE