markets
Euro, Not Yuan, Will Be Dollar's Key Rival, Currency Guru Says
By and
China needs political reforms to boost sentiment: Eichengreen

Europe working on a unified capital market, economist says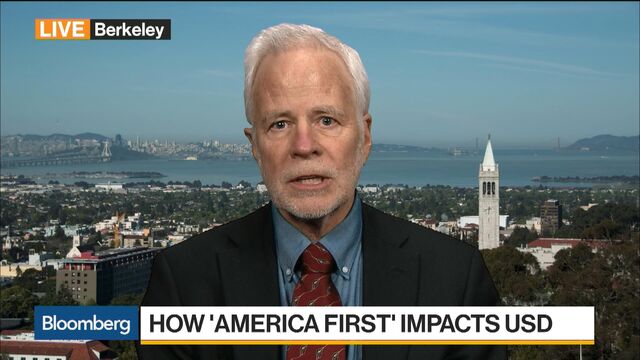 The euro area's moves to deepen its economic union are giving fresh impetus to the idea that the common currency will emerge as a rival to the dollar in the global financial system, according to political economist Barry Eichengreen.
At the same time, deep-seated concerns about China's political system will inhibit the international rise of the yuan, despite the nation's economic heft, according to Eichengreen, an economics professor at the University of California at Berkeley and co-author of "How Global Currencies Work."
"There is a role there for the euro and the Chinese renminbi as rivals or supplements to the dollar on the international stage," Eichengreen said in an interview with Bloomberg Television Thursday. "My view has evolved -- in the sense that I'm more bullish about the euro."

China offers a unified capital market, and has the world's third-largest bond supply outstanding, along with having the No. 2 economy. It's also the biggest trading nation on the planet. But none of that is reflected in the minimal use of its currency in global transactions. Eichengreen suggested its potential will remain limited thanks to the country's political structure.
"I'm more cautious about the renminbi," Eichengreen said, using the official term for China's currency. "They're going to have to have political reform in China to accompany the financial reform before people are willing to park a significant share of their savings in Shanghai. And that goes for central banks as well."
While Germany's central bank recently said it's including the yuan in its foreign-exchange holdings, the currency remains limited in global reserve portfolios.
Others have pointed out the need for political reform to bolster confidence in investing in China -- read more here.

The introduction of the euro in the late 1990s spurred speculation on the potential for it to develop as a competitor to the dollar -- with then-Federal Reserve Chairman Alan Greenspan even devoting a speech to the issue, and welcoming the competition. But with financial markets still nationally based, its potential was restrained. The European debt crisis this decade provided another hurdle to the currency rivaling the dollar.
"They've drawn a line under their crisis" now, Eichengreen said. "They are building a capital-markets union -- liquid markets, euro-zone wide," he added. European officials are working toward a banking union in the aftermath of the debt crisis and strengthening its financial-rescue infrastructure. France has proposed establishing a European finance minister.
— With assistance by Betty Liu
Before it's here, it's on the Bloomberg Terminal.
LEARN MORE