politics
Erdogan Vows to Clear Kurdish Forces From Length of Syria Border
By
Turkish president includes Manbij, where U.S. troops are based

Both sides have said dispute is dangerously combustible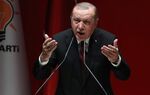 Turkish President Recep Tayyip Erdogan dismissed U.S. warnings not to expand the offensive against Kurdish fighters in northwestern Syria, vowing to clear them from the length of the Syrian border -- including the town of Manbij, where American troops are also based.
"We will carry on with our Olive Branch operation until its targets are met -- then we will clean Manbij of terrorists," Erdogan said in televised remarks in Ankara. "No one should be disturbed by this because the real owners of Manbij are not these terrorists but our Arab brothers. After that, we will continue our struggle until the Iraqi border, until no terrorists are left."
Top officials from both countries have warned that the situation had grown dangerously combustible and threatened to ignite a direct showdown as they pursue conflicting interests in Syria. While the U.S. has predominantly backed Kurdish forces in its fight against Islamic State, Turkey considers them part of a terrorist separatist group and wants them away from its border.
The U.S. has been clear "that we do not want to see an escalation of tensions in any way, shape, or form. And part of that would of course include the town, the community of Manbij," State Department spokeswoman Heather Nauert said Thursday. On Friday, Erdogan accused Washington of not keeping its promise to force Kurdish fighters to withdraw from Manbij.
Turkey is incensed by the U.S. refusal to stop arming and training the Kurdish fighters, and "feels that a final ultimatum and threat of violence is the only way to bring Washington to its senses," Anthony Skinner, a director at U.K.-based forecasting company Verisk Maplecroft, said in an email. "But the U.S. government sees Manbij as a red line, which magnifies the risk of miscalculation on both sides."
— With assistance by Cagan Koc
Before it's here, it's on the Bloomberg Terminal.
LEARN MORE