Small Business
Casinos Bet on Smoothie Slots, Desperate to Lure Millennials
Matching fruits to make a drink, finding hidden words—the idea is to reward players for their brains and dexterity and not simply for dumb luck.
By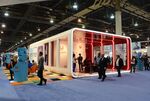 It's one of the big dilemmas facing the $70 billion U.S. casino industry—how to get people in their 20s and 30s to play slot machines as much as their parents or grandparents. Generations raised on video games and smartphones don't have the same interest in plopping themselves in front of screens when they're out on the town. In Las Vegas, the percentage of visitors actually gambling is down, while the share going to nightclubs and other attractions is up. The total number of slot machines in Sin City is off 23 percent from its 2001 peak—the machines make up the majority of gambling revenue in the U.S.
That's why Eric Meyerhofer, an electrical engineer who previously ran a company that made ticket printers for slot machines, co-founded Gamblit Gaming, which builds millennial-friendly gambling devices. The products of the Glendale, Calif.-based company look more like arcade games than slot machines and have been out on the floor of big casino operators such as Caesars Entertainment Corp. and MGM Resorts International for almost a year. They've opened a window into what young players like and don't like about gambling, Meyerhofer says. One thing is clear, it's not going to be an easy sell. "This will take years to evolve," he says.
Skill-based slot machines—some made by Gamblit, others by rival startup GameCo Inc. and established manufacturers such as International Game Technology Plc and Scientific Games Corp.—make up about 500 of the roughly 982,000 gambling devices in the U.S. and Canada, according to market research firm Eilers & Krejcik Gaming LLC. But casino operators say they'll add the games because they're luring new customers. "We believe that these are the games of the next generation," says Rick Hutchins, a senior vice president for slot machine strategy at MGM. While the games require some skill—Gamblit's Into the Dead, for example, involves seeing how many zombies you can blast—the size of the cash prizes is determined randomly, much like traditional slot machines.
Meyerhofer's original vision, back in 2010, was to file patents for interactive gambling devices that he could then license to big manufacturers. The idea was to create skill-based slot machines where players could be rewarded in part for their brains and dexterity and not simply by dumb luck. Manufacturers, however, were slow to embrace his ideas. So in 2016, Gamblit started making the machines itself. Employing about 90 people and with revenue of less than $5 million last year, Gamblit is still experimenting. Another early notion was that its games would work best in bars, where young people hang out. Instead, its devices on the casino floor generate three times as much revenue.
One of Gamblit's signature games is a video poker table where up to four players compete to see who'll be the quickest to grab cards that pop up in the center. The devices have proved popular with groups of strangers. "People enjoy it better when they're playing against people they don't know," Meyerhofer says.

Couples gravitate to Gamblit's single-player games, such as Smoothie Blast, where players match fruits to make a smoothie, and Lucky Words, where the goal is to find words hidden on the screen. The games have been so popular with couples that Meyerhofer is adding benches to his devices instead of single seats. Borrowing from a strategy of traditional slot makers, Gamblit has secured the rights to well-known brands. The company later this year will put out machines based on the classic arcade game Pac-Man and the game show Deal or No Deal.
Because Gamblit's games take longer to play than slot machines, there's a slower turnaround of bets, 45 seconds for Gamblit vs. about six seconds for a typical slot machine. There have been regulatory issues as well. While skill-based games have been approved in gambling markets such as Nevada and New Jersey, regulators nationwide are still catching up. Caesars removed a Gamblit Poker game from its casino near San Diego, for example, because California regulators considered the four-person device four separate slot machines and state rules limit the number of devices some casinos can operate.
Meyerhofer says he's certain regulators will come to better understand the devices. As many as 70 percent of Gamblit's customers weren't in the casinos' customer databases before, proving his machines are doing what they're designed to do, he says. "The youthfulness of the player, that was an unknown one year ago today," he says. "I have no lack of confidence that this is going to work." 
(
Corrects the name of the game pictured below the fifth paragraph.
)
BOTTOM LINE -
Casinos such as Caesars and MGM Resorts, faced with declining shares of visitors who gamble, are testing interactive slot machines designed to appeal to younger customers.
Before it's here, it's on the Bloomberg Terminal.
LEARN MORE