business
Canada's Poloz Says It's Not Really the End of Easy Money
By and
Economies still working through 'a lot of underlying stresses'

Canada central bank governor speaks in Bloomberg TV interview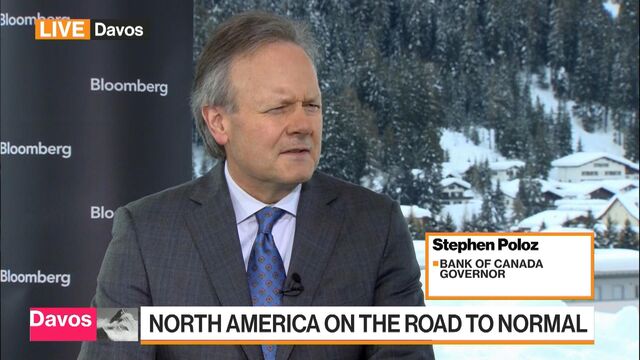 Bank of Canada Governor Stephen Poloz said central banks aren't going to aggressively tighten policy because there are still underlying vulnerabilities in many economies.
Calling this the "'end of easy money' is a little too simple," he said in a Bloomberg Television interview in Davos, Switzerland. "It's likely that money is going to remain easy for some time yet" because "economies are still working their way through a lot of underlying stresses."
Central banks are slowly moving away from the emergency stimulus put in place after the financial crisis, and leaders gathered for the World Economic Forum have combined optimism with caution in their assessment of the outlook. The IMF sees global growth accelerating to the fastest pace in seven years, but exuberance in markets, surging debt in China and elsewhere, and political flash points -- from Brexit to North Korea -- are all risks.
In Canada, officials have raised interest rates three times since mid-2017, including a hike just last week, which took the benchmark to 1.25 percent. Poloz has been trying to gradually bring rates back to more normal levels amid strong growth and a surge in employment, without triggering an unwanted slowdown. He said there's still "considerable" slack in the labor market.

In the euro area, European Central Bank President Mario Draghi said Thursday that while the economy is improving, policy will remain accommodative for some time to come. Policy makers are considering when they need to end their bond-buying program and how to start signalling that a change is coming.
Poloz said companies are in an expansion phase and policy makers don't want higher borrowing costs to crimp confidence or hiring plans. He added that concerns about the future of the Nafta trade agreement are weighing on investment decisions.
Growth Ingredients
"What happens in this late stage in the cycle is that investment becomes the principle driver of growth, and that builds more capacity, pulling that capacity out of the labor market and raising potential output," he said. "We're watching those ingredients as they unfold, and we can see that it's underway."
Asked about central banks' room for maneuver, Poloz pointed out that the neutral rate of interest is probably lower now than in the past due to the debt overhang.
"The economy finds a new place where interest rates have much more effect than in the past," Poloz said. "That's one of the things we have to learn by probing, by moving our way along and assessing how things are evolving."
One thing he wouldn't comment on, however, was the conflicting signals coming out of the U.S. on currencies. U.S. President Donald Trump said Thursday that the dollar would get stronger, and that remarks welcoming its weakness made by Treasury Secretary Steven Mnuchin were "taken out of context."
"I prefer not to talk about currencies at all except perhaps to interpret their moves," Poloz said. "Exchange rates are what they are. Companies take them into account, central bankers take them into account."
— With assistance by Theophilos Argitis
Before it's here, it's on the Bloomberg Terminal.
LEARN MORE