Inflation Holds Near the Bank of Canada's Target Amid Tighter Economy
By
December inflation was 1.9%, after 2.1% gain in November

Core consumer prices rose 1.8% in December, fastest since 2016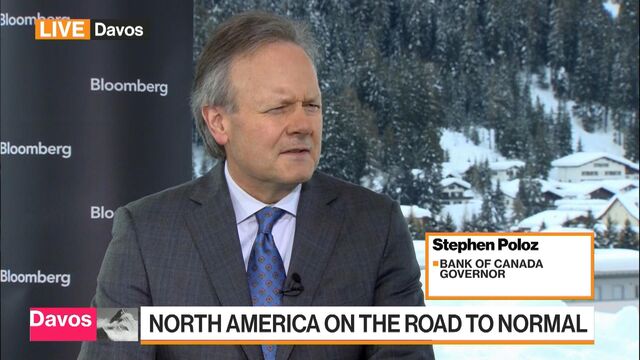 Canadian inflation hovered at about the central bank's 2 percent target for a second month in December, the result of a year of strong growth that is finally beginning to produce signs of more normal price pressures.
Annual inflation was 1.9 percent in December, slightly down from 2.1 percent in November, Statistics Canada reported Friday in Ottawa. It marks only the second time in the past three years the economy has produced two-month inflation averaging at least 2 percent.
The price strength reflects an economy running up against capacity constraints following a stellar performance in 2017. That is adding pressure on the Bank of Canada -- which has kept the expansion going with low interest rates -- to keep hiking borrowing costs to more normal levels.
"This is firm enough to keep the Bank in tightening mode, but still mild enough to keep the tightening pace gradual and cautious," Doug Porter, chief economist at Bank of Montreal, said in a note.
Investors are anticipating at least two more increases this year, after the Bank of Canada hiked borrowing costs three times since July. The Canadian dollar was little changed following the report at C$1.2328 per U.S. dollar at 8:42 a.m. in Toronto trading.
The pick-up at the end of 2017 brought average inflation for the year to 1.6 percent, which was stronger than 1.4 percent in 2016 and 1.1 percent in 2015. The Bank of Canada expects inflation will stay at about 2 percent on average over the next two years -- in line with an economy around full capacity.
The average of the Bank of Canada's three key core inflation measures -- which excludes volatile items such as energy and is considered a gauge of inflation pressures -- rose to 1.8 percent in December, the highest since October 2016.
Highlights of Canada December CPI 
The annual inflation rate was in line with economist forecasts
The slowdown to 1.9% was due to a drop in gasoline prices last month, which fell 3.3% during December
Annual inflation excluding gasoline was 1.5% in December, unchanged from November
Telephone service prices fell 7.6% in December, the fastest since at least 1988
December tends to be a seasonally weak month for consumer prices and that was the case again. On the month, consumer prices were down 0.4%, versus economist forecasts for a 0.3% drop. On a seasonally adjusted basis, the price index rose 0.2% on the month
For the three so-called core measures, the 'common' core rate rose to 1.6%, the 'median' core rate was unchanged at 1.9% and the 'trim' measure was up to 1.9%
Ontario had the slowest inflation in Canada (1.5%) even with minimum wage hikes kicking in at the start of 2018. Inflation in that province was muted by a drop in phone service costs


— With assistance by Erik Hertzberg
Before it's here, it's on the Bloomberg Terminal.
LEARN MORE