markets
Weak-Dollar Cry Complicates Things for Asian Central Bankers
By , , and
Dollar weakness allows region's borrowing costs to stay lower

Mnuchin view sees greenback fall, commodities and yuan surge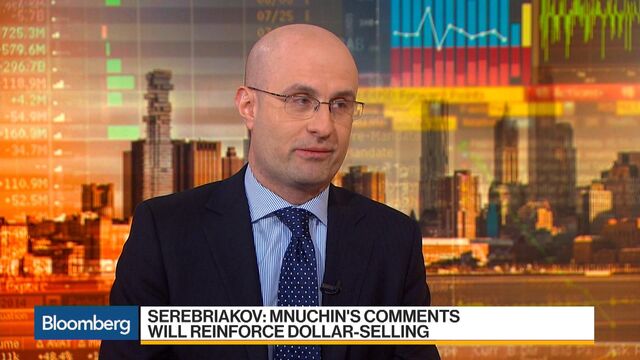 Treasury Secretary Steven Mnuchin's view that "a weaker dollar is good" may not be shared by central bankers in Asia, though it does give room to keep borrowing costs lower for longer.
Mnuchin's remarks -- made amid the annual World Economic Forum gathering of political and business leaders in Davos -- helped further weaken a three-year-low greenback while sending commodities, the yuan and the yen on a surge. The break with American tradition on a bipartisan strong-dollar policy follows a provocative U.S. move this week to slap tariffs on imported washing machines and solar panels.
Here's a look at what the U.S. dollar weakness -- if sustained -- means for the region's major central banks.
China - Expectations Broken
Mnuchin's comments spurred the yuan's steepest one-day gain in almost two years, and the currency is now nearing levels last seen in August 2015 before its shock devaluation.
"The rapid strengthening has triggered a panic in the market, aggravating the sentiment to sell the dollar," said Tommy Xie, an economist at Oversea-Chinese Banking Corp. in Singapore. "Apart from the weakening dollar, high onshore funding rates and strong demand for cross-border financing will both take foreign currencies back to China."
While that's a potential headache for exporters, a weaker dollar's not all bad: it keeps the pressure off outflows, giving more room to further strangle financial excesses and loosen some capital controls.
"One good thing for China is the expectation of one-way weakening has been broken," Xie said. "So capital controls can be gradually loosened."
Japan - Another Hurdle
Yen strength means cheaper imports, adding to the already momentous challenge in reaching the still-distant 2 percent inflation goal and reinforcing the view that stimulus will keep pumping into the world's No. 3 economy.
Bank of Japan officials will be hampered in adjusting interest rates out of fear that the yen will make further gains, Yasunari Ueno, chief market economist at Mizuho Securities, wrote in a research note Thursday.
"It would not be a surprise that Mnuchin's comments offer an open goal for MoF officials in Japan to make their feelings on recent JPY strength known," according to a research note Thursday from economists at United Overseas Bank Ltd. in Singapore.
The currency fluctuations also threaten to interrupt an already fragile campaign by Prime Minister Shinzo Abe to get companies to institute pay increases of 3 percent as annual wage negotiations get underway.
Southeast Asia - Pressure Off
In Southeast Asia, currency strength allows central bankers to be patient on interest-rate increases. Bank Negara Malaysia became the first central bank in the region to hike on Thursday after years of low rates. But policy makers should feel less pressure to tighten further as the ringgit's strong performance has made inflation less of a threat.
On the other hand, export-reliant economies such as Malaysia and especially Thailand will feel the pain in a struggle to boost shipments amid stronger currencies.
Malaysia's ringgit has already started off the year with a bang, strengthening to the highest level in almost two years. Hawkish rhetoric from Bank Negara Malaysia and an upcoming general election have fueled optimism that inflows into domestic assets will gather pace.
The Bank of Thailand, flush with reserves, has been struggling to damp the baht's rise. Both the baht and ringgit are among the strongest performers in Asia so far this year.

South Korea - Bad Timing
A weaker greenback will likely worry South Korean authorities. Mnuchin's comments sent the won back to near the three-year high it touched early this month, when it prompted speculation the central bank may have intervened to stem the gains. A government official said Thursday the authorities are monitoring "excessive" movements in the won.
The won may gain more cues ahead of the central bank's policy review on Feb. 27. An unexpected contraction in the economy last quarter and easing price pressures could give room for Bank of Korea to keep policy on hold and limit the won's strength.
India - Breathing Space
A weaker dollar should offer the rupee some respite after it weakened last week on the back of a trade deficit that widened to its highest in three years. Still, the Reserve Bank of India is unlikely to tolerate a sharp appreciation in the rupee, given it could choke off a nascent recovery in exports.
"For the RBI, the fight gets a bit tougher," said Radhika Rao, Singapore-based India economist at DBS Holdings. "We don't think it will intervene aggressively if all Asian currencies are rising at the same time. Having said that, foreign debt inflows could just increase."
Australia - Waiting Game
Likewise in Australia, the central bank can keep up a lower-for-longer stance as a stronger currency adds to downward pressure on inflation. With a long-awaited easing in east coast property prices also unfolding, a stronger Aussie means Reserve Bank of Australia Governor Philip Lowe can continue his waiting game with unchanged benchmark interest rates.
Paul Bloxham, HSBC Holdings Plc's chief economist for Australia, has said that a 5 percent increase in the Aussie trade-weighted index is equivalent to a quarter-point hike in the RBA's cash rate. The gauge has climbed almost 4 percent since Dec. 8.
— With assistance by Yinan Zhao, Y-Sing Liau, and Garfield Clinton Reynolds
(
Updates with Bank Negara Malaysia rate decision in 12th paragraph.
)
Before it's here, it's on the Bloomberg Terminal.
LEARN MORE