U.S. Warns Turkey to Tread Carefully in Syria
By , , and
U.S.'s Bossert says Turkey should be mindful of escalation

Erdogan adviser sees risk of faceoff over Syria's Manbij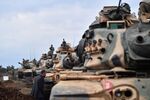 The U.S. warned Turkey to tread carefully in northwest Syria, as officials from both countries cautioned that the situation had grown dangerously combustible and threatened to ignite a direct showdown between their forces.
Any miscalculation by Turkish forces fighting a U.S.-backed Kurdish militia in Syria could result in "grave consequences," U.S. Homeland Security Adviser Tom Bossert told reporters Thursday at the World Economic Forum in Davos, Switzerland. Just hours earlier, President Donald Trump had warned more openly of a potential showdown between the NATO allies' troops, and a chief aide to Turkish President Recep Tayyip Erdogan echoed that sentiment.
The remarks fueled already considerable frictions between the NATO allies as they pursue conflicting interests in Syria. While the U.S. has backed predominantly Kurdish forces in its fight against Islamic State, Turkey considers them part of a terrorist separatist group and wants them away from its border. 
The dispute came to a head earlier this month when Erdogan sent his military after the Kurdish fighters over U.S. objections, vowing to expand the offensive to the town of Manbij, where American troops are embedded with the Kurds.
Tough Talk
"I hope NATO's not fighting itself," Bossert said in Davos. While Turkey has "legitimate security concerns about elements of" the Kurdish forces in Syria, Erdogan "is a NATO member and I think he's going to remain committed to that as he sits back and thinks about the implications of his decisions," he said.

The lira erased gains after Bossert's remarks, falling 0.4 percent at 3:50 p.m. in New York.
The U.S. official's warnings came a day after Trump called Erdogan to discuss Turkey's military push toward the Syrian town of Afrin. According to a White House account of the call, Trump urged Turkey to "limit its military actions" and "avoid any actions that might risk conflict between Turkish and American forces."
The White House's harshly worded statement signaled the growing impatience with Erdogan's decision on Sunday to send tanks and warplanes across the border to chase the Kurdish forces away from its frontier.
"We are urging Turkey to deescalate, exercise caution and avoid any actions that might risk conflict between Turkish and American forces," Pentagon spokesman Eric Pahon said Thursday.
Russian Pullback
The U.S. isn't the only NATO member opposed to Turkey's offensive. Germany's Foreign Minister Sigmar Gabriel said he was "very concerned" over the incursion, warning that the government in Berlin would halt the delivery of military hardware. Der Spiegel reported that an upgrade of Leopard tanks eagerly awaited by the Turkish government would be affected.
The trigger for the Turkish operation was a plan by the U.S.-led coalition against Islamic State to set up a new armed force in an area of northeast Syria near Turkey's border, controlled by Kurdish fighters in cooperation with American troops. U.S. Secretary of State Rex Tillerson disputed a U.S. military official's assertion that a "border security force" was being established.
Turkey says the Kurdish fighters are allied with the separatist Kurdish PKK militants it has battled for more than three decades.
After Erdogan sent his army into Afrin, Russian forces in that area pulled out, clearing the way for the Turkish advance. The White House account of Trump's phone call with Erdogan suggested that U.S. soldiers may not do the same.
"Turkey and the U.S. risk a faceoff over Manbij," Ilnur Cevik, a chief adviser to Erdogan, told TRT Haber radio on Thursday. "Turkey's intention is to eliminate threats from entire Syrian border and the threat is not coming alone from Afrin. Turkey has already declared Manbij as the next target."
Pentagon spokesman Pahon said that the U.S. has not seen, "at this point," Turkish forces moving toward Manbij.
Turkey disputed the White House account of the call. It said Trump only "touched upon the necessity of limiting the duration" of the offensive.
Before it's here, it's on the Bloomberg Terminal.
LEARN MORE