politics
Trump Racism Cited by NAACP in Suit Over Ending Haiti Program
By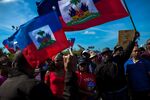 The Trump administration's plan to end a program protecting 58,000 Haitians from deportation is unconstitutional because it's based on the president's racist beliefs, a national civil rights group said in a lawsuit.
The Department of Homeland Security's plan violates guarantees to equal protection under the law and prohibitions on "irrational government action," the National Association for the Advancement of Colored People said in a complaint filed Wednesday in federal court in Maryland. Central to the allegations are recent highly publicized remarks that Trump is said to have made in private meetings that were leaked to the media. 
The complaint cites reports that in a Jan. 11 meeting on immigration at the White House, Trump balked at more immigrants from Africa, which he derided as "shithole countries." Trump also asked, "Why do we need more Haitians?" and directed that Haitian immigrants shouldn't be admitted through any proposed immigration plan, according to the complaint.
It's the latest lawsuit in which rights groups have used Trump's charged comments about minorities to undermine his immigration agenda, including cases over his travel ban and threat to withhold federal funds from cities that don't cooperate with federal immigration officials.
"President Trump's racial bias against Haitian immigrants recalls America's long, ignominious history of discrimination against Haiti, the world's first black republic," the NAACP said in its complaint. "In stark contrast, the president stated that immigrants from countries like Norway were more desirable and should be admitted."
Katie Waldman, a spokeswoman for the Department of Homeland Security, declined to comment. The White House didn't immediately return messages seeking comment.
After his comments caused a bipartisan backlash, Trump told reporters he's "the least racist person." And he denied saying "anything derogatory about Haitians other than Haiti is, obviously, a very poor and troubled country," according to the complaint.
The rights group seeks an order blocking DHS's November 2017 decision to rescind Temporary Protective Status for Haitian immigrants, known as TPS, which was granted in 2010 following a massive earthquake that killed more than 200,000 people, displaced millions more and nearly destroyed the capital Port-au-Prince.
Before it's here, it's on the Bloomberg Terminal.
LEARN MORE