Trump Plans to Visit U.K. Later This Year, May's Office Says
By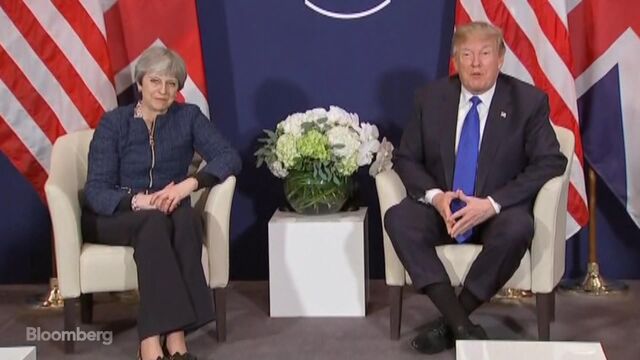 Donald Trump is lining up his first visit to the U.K. as president later this year, Prime Minister Theresa May's office said, as the two leaders gave a public display of affection intended to overcome past disagreements.
One British official said there was good chemistry between May and Trump during their 40-minute conversation, at the World Economic Forum in Davos on Thursday. Trump declared his "love" for the U.K. while May said Brits stand "shoulder to shoulder" with Americans in a "really special relationship."

The two leaders concluded their meeting "by asking officials to work together on finalizing the details of a visit by the president to the U.K. later this year," May's office said in an emailed statement.
The details of Trump's planned trip are not yet clear but it seems unlikely to be the full state visit that Queen Elizabeth II has offered, with the trappings of military ceremony and a banquet at Buckingham Palace. The White House said it would be a "working visit." It's likely to take place in the second half of 2018.
Trump is said to have told May he won't come on a state visit if it will be marked by protests. After May announced the invitation last year, an online petition opposing the proposed visit gathered 1.9 million signatures.
The so-called "special relationship" between the U.K. and U.S. has been strained and both sides worked hard to minimize their disagreements on Thursday. When the two leaders met, Trump insisted the relationship was good, telling May: "We love your country."
According to May's office, the two leaders did discuss issues on which they have disagreed -- such as the Iran nuclear deal and the Bombardier trade row, with the prime minister "reiterating the importance of the company's jobs in Northern Ireland."
May also updated the president on the progress of Brexit talks, and the pair agreed to push toward a trade agreement after the U.K. withdraws from the European Union. "The two leaders reiterated their desire for a strong trading relationship post-Brexit, which would be in the interests of both countries," her office said.
— With assistance by Toluse Olorunnipa
Before it's here, it's on the Bloomberg Terminal.
LEARN MORE