markets
Starbucks Tumbles the Most in Six Months After Slump Goes Global
By
Growth in all markets fails to meet analysts' projections

Sales of holiday gift items were weak, CEO Johnson says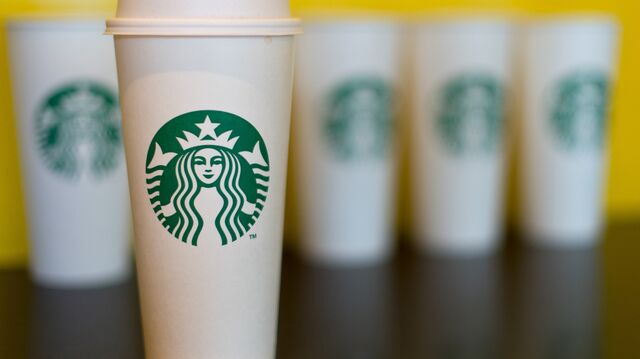 Starbucks Corp.'s U.S. slowdown has gone global.
The coffee chain posted disappointing sales growth in all its major regions on Thursday, signaling that it now has bigger problems than an overly saturated U.S. market. The results from the quarter that ended Dec. 31 sent shares down the most in six months on Friday. 
"Our holiday merchandise and limited-time offers did not perform up to expectations," Chief Executive Officer Kevin Johnson said in an interview. In the U.S., the chain also saw "a little bit of softness in the afternoon, which may be a reflection of fewer people out shopping."

While Starbucks expanded its holiday gift items this year to include tech gadgets and small games, sales of those products were weak, he said.
Starbucks also may be seeing more competition from fast-food chains that are heavily pushing value menus -- McDonald's Corp. recently began advertising cappuccino, mocha and macchiato coffees for just $2. And the java giant has fewer wide open spaces to expand into, now that coffee culture -- and other chains -- have spread to most of the world.
Starbucks global same-store sales rose 2 percent last quarter, missing the 3 percent average of analysts' estimates, according to Consensus Metrix. Comparable-store sales also trailed projections in the Americas region, which includes the U.S. And they actually declined in Europe, the Middle East and Africa.
'Underwhelming'
"It's the second consecutive quarter of an uninspiring or an underwhelming global comp," said A.B. Mendez, senior equity analyst at Frost Investment Advisors, referring to comparable sales. "Investors expect better than that."
Keeping a lid on expenses helped Starbucks post slightly better earnings than projected. Excluding tax benefits and other items, profit was 58 cents a share, compared with the 57-cent estimate.
The shares fell as much as 5.2 percent to $57.40 in New York, the biggest intraday decline since July. They had gained 5.4 percent this year through Thursday's close.
China remained a bright spot for the chain: Same-store sales there rose 6 percent.
"The two growth engines of China and the U.S. are showing the results," Johnson said. "China really is leading the way."
Before it's here, it's on the Bloomberg Terminal.
LEARN MORE