Charted
Puerto Rico's Fiscal Plan Leaves Nothing for Bondholders
Hurricane-hit territory sees a shortfall before any debt service is paid
By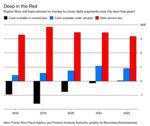 When President Donald Trump visited Puerto Rico last year, he triggered a selloff in the island's bonds by saying its debt needed to be wiped out to help recover from Hurricane Maria. For the next five years, the bankrupt territory's fiscal plans are -- essentially -- calling for just that. The road map released late Wednesday says Puerto Rico will have a deficit, before debt payments are due, of about $3.4 billion through 2022, compared with the $3.7 billion available for servicing under the initial plan outlined in March.
— With assistance by Nancy Moran
Before it's here, it's on the Bloomberg Terminal.
LEARN MORE