Puerto Rico Plan Leaves Almost No Money for Bond Payments
By and
Latest roadmap sees $3.4 billion shortfall before debt costs

Plan supports investor expectation for steeper losses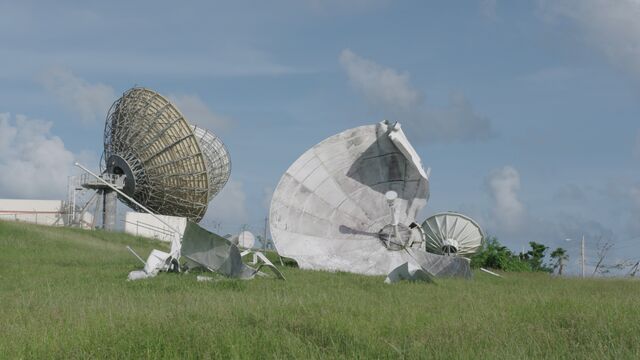 Puerto Rico said it will have virtually no money to cover debt payments for the next five years as the bankrupt island deals with the crippling blow of Hurricane Maria, which caused tens of thousands of residents to leave and pushed the economy into its deepest contraction in more than a decade.
The forecast, contained in a revised fiscal plan that the commonwealth released late Wednesday, shows that the government expects to have a shortfall, before any debt service is paid, of $3.4 billion through 2022. That marks a significant shift from the proposal released before the storm that would have left hundreds of millions of dollars a year to cover its debts.
"We had to consider the significant social impact that Maria caused, due to the massive exodus that we've had and are expected to have in the future," Governor Ricardo Rossello told reporters Wednesday in San Juan.
The figures underscore the deep losses facing owners of Puerto Rico's more than $70 billion of bonds, whose prices have tumbled since the Sept. 20 hurricane amid widespread expectation that even more of the government's obligations will need to be written off in bankruptcy. The blueprint, if approved by Puerto Rico's federal oversight board, will serve as a basis for negotiations with creditors.
The September storm, which destroyed much of the island's electricity system, cut into tax collections and prompted many residents to flee to the U.S. mainland, exaggerating the financial drain that had already pushed it to the brink. 
Officials project the island's economy will contract by 11.2 percent in the fiscal year ending in June, the steepest decline since at least 2003. The economy is expected to reverse in the following years with the help of a projected $35 billion of federal disaster funds and $22 billion of insurance claims. But about 600,000 people are expected to leave the island by 2022, a 19 percent drop that would be a severe drag on any recovery.
The need to withhold debt payments was broadly anticipated on Wall Street, and a lawyer for the federal control board last year said in a court hearing that a five-year moratorium may be needed.
Puerto Rico's original recovery plan would have left $3.7 billion for debt payments through 2022, a period when $17.1 billion of principal and interest is set to come due. The latest plan, by contrast, projects that the government will remain in the red, before debt service, every year until 2022, when it would post a $27 million surplus, even after steps are taken to steady its finances.
While the administration believes Puerto Rico is unable to pay bondholders, the federal board will lead negotiations with creditors and the bankruptcy court will decide the ultimate payments, Rossello told reporters.
Puerto Rico began defaulting on its bonds in 2015, unable to repay what it owed after years of losing residents. It filed for bankruptcy in May after the U.S. enacted an emergency rescue law that gave it power to do so and installed the federal board to help the commonwealth's government chart a financial turnaround.
Puerto Rico has yet to detail how any losses would be distributed among various classes of bonds backed by different legal pledges and with sometimes competing claims to the government's cash. Groups of creditors are currently fighting over that issue in court.
Prices on most commonwealth securities have tumbled over the past two months. General obligations with an 8 percent coupon and maturing in 2035 traded Wednesday for an average of 26 cents on the dollar, down from as much as 59 cents in September, before the storm. Some bonds trade for even less, with those issued by the infrastructure and highway agencies going for pennies on the dollar.
— With assistance by Jonathan Levin
Before it's here, it's on the Bloomberg Terminal.
LEARN MORE