Ontario Party Leader Quits Over Sexual Misconduct Claims
By and
Patrick Brown resigns five months before provincial election

Tory lawmaker calls the allegations 'categorically untrue'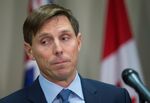 The opposition party in Canada's most populous province will select an interim leader Friday after the former head resigned overnight in the wake of sexual misconduct allegations.
Patrick Brown, 39, stepped down early Thursday as leader of the Progressive Conservative Party of Ontario after two women accused him of unwanted sexual advances when they were teenagers, and said Brown had provided them with alcohol, according to reports on CTV News.
The party's caucus will meet to choose an interim leader, deputy leader Sylvia Jones said at a press conference in Toronto. Jones didn't indicate whether the interim head would lead the party in June elections, or if a leadership convention would be held before then.
"We have the plan in place to succeed in 2018. Was last night a hiccup? Absolutely," Jones said, adding that the allegations came as a "shock."
Brown, who had been leading incumbent Premier Kathleen Wynne in the polls ahead of the June 7 vote, denied the allegations and said he will remain as a lawmaker in the provincial parliament while he fights to clear his name.
"These allegations are false and have been difficult to hear," Brown said in a statement released by his party. "However, defeating Kathleen Wynne in 2018 is more important than one individual."
The former leader late Wednesday held a press conference in which he called the accusations "categorically untrue." His voice quavering, he appeared to be planning to stay on as leader before meeting with party officials and quitting a few hours later. Several of his staff had already quit after urging him to resign.
Me Too
Brown joins a growing list of men swept up in sexual harassment allegations around the world amid the Me Too and Time's Up movements, including Hollywood mogul Harvey Weinstein. Jamie Baillie, the head of Nova Scotia's Progressive Conservative Party, resigned Wednesday after being found to breach workplace harassment rules.
The resignation of Brown, a lawmaker in the federal government under former Prime Minister Stephen Harper, leaves his party scrambling ahead of the election. Brown's Conservatives held a slight lead over the ruling Liberals and opposition New Democratic Party in polls. A Forum poll published in December put the Tories at about 40 percent support, while the two other parties had about 25 percent. Other polls indicate a tight race for the election.
Ontario's economy has picked up steam over the past year amid a booming construction and financial sector with economists at Royal Bank of Canada projecting growth at a seven-year high of 2.9 percent for 2017. Wynne's Liberals have been widely seen as tired and unpopular amid soaring electricity prices and a scandal over the cancellation of a natural gas plant.
The two women, their identities hidden, detailed the allegations on the CTV television network. One incident occurred more than 10 years ago when the woman was in high school and she says Brown, then a municipal politician in Barrie, Ontario, asked her to perform oral sex on him. The other, a university student who worked in his office when Brown was a federal MP, alleges Brown sexually assaulted her following an event she helped organize in 2013. Both said they had been given alcohol by Brown.
"It's a difficult and brave thing to do to come forward in the way these young women have done tonight," Wynne said in a post on Twitter. "My government and I have been clear on the issue of sexual harassment and assault. In fact our policy and our ad were called 'It's Never Okay."'
Before it's here, it's on the Bloomberg Terminal.
LEARN MORE