Source: ktsimage/iStockphoto
Nordea Gamble on Banker Robots Heads for Make-or-Break Hour
By and
CEO says bank's transformation means 2018 will be better

Market responded to 4Q earnings by driving shares lower
In a few weeks, Nordea Bank AB will know whether its costly digital bet is on the right track. That's when the first batch of customers will move from the world of human bankers into the world of robots.
In February, the biggest Nordic bank "will get the full, real proof of concept," according to Chief Operating Officer Torsten Jorgensen. The experiment will take place in Finland. It's "the first real product, with real customers, with real functionality, and hopefully that will be well received by customers," Jorgensen said. From that moment, everything will be "fully automated" with "no manual intervention needed."
Nordea Urges Investors to Be Patient as 'De-Risking' Drags On
Nordea is hoping investors will be patient and accept its forecasts that the costs entailed in converting the bank into a digital business here and now will result in future savings. Chief Executive Officer Casper von Koskull says Nordea is ahead of the game, and warns that others may be embarking on their digital conversion too late or too slowly.
Nordea CEO Defends 'Shocking' Job Cuts as Analysts Complain
"I think all banks will become more tech heavy," von Koskull said in an interview on Thursday. "I think depreciation and amortization will be a larger part of your future cost base, which means that the rest of the cost base needs to be driven down, which we are doing."
For now, shareholders are struggling to see the benefits of holding a bank that for a second consecutive quarter left their investments worth less.

Shares in the bank fell more than 4 percent on Thursday, their biggest slump since Oct. 26. Back then, the stock fell about 7 percent in connection with Nordea's third-quarter results.
Von Koskull said some corners of the market were interpreting the bank's results in a "very simplistic" way.
"Our cash cost is substantially reducing and of course when you look at capital generation it's all about cash cost," he said. He says some investors and analysts may be focusing too much on the profit and loss statement, and not enough on the dynamics in the balance sheet, where Nordea's longer-term potential becomes more obvious.
The Nordic region's only global systemically important bank reported fourth-quarter results on Thursday that missed analyst estimates, falling behind both in terms of revenue and profit. Von Koskull told investors he was "not satisfied with the development" in the fourth quarter, but tried to reassure the market that the strategy remains appropriate, with an improvement just around the corner.
"For 2018 we are confident that net profit will grow, and we expect to see slightly higher revenues, lower costs and a stable credit quality," he said.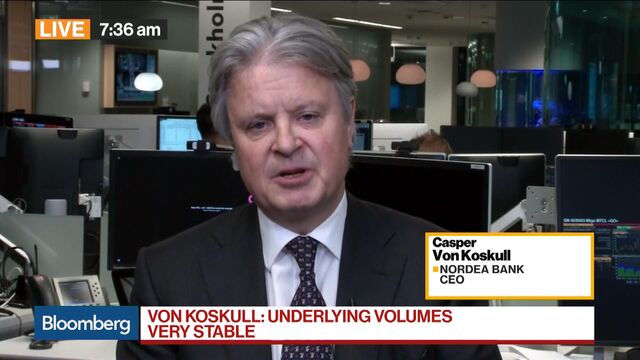 Jorgensen, the COO, says Nordea will know much more about its prospects after its digital project "goes live" in Finland next month. "Then it becomes easier to tell the exact effects," he said.
By relying less on humans and more on technology, Nordea plans to reduce its cash spending through 2021 by "close to" 1 billion euros ($1.24 billion). That, in turn, will help it generate an extra 75-80 basis points in capital over that period, it estimates.
Nordea expects the investment to help drive a one-third reduction in the ratio of cost to income in personal banking, to "the low 40s," Joseph Edwin, head of the core banking program, said in an email. That compares with a ratio of 60 percent at the end of 2017. Customers will be able to do much of their banking business on their own, and those who consolidate their business with Nordea will get better prices, he said.
Better mobile and online banking services will mean customers can "self-serve many of their day-to-day account management requirements without calling the bank," Edwin said. Opening an account will be "a breeze."
For now, investors just need to wait. Jorgensen says next month "will show us what exactly the benefits are, in terms of cost and efficiency."
— With assistance by Niklas Magnusson
Before it's here, it's on the Bloomberg Terminal.
LEARN MORE