markets
Oil Options Bears Are Slowly Disappearing
By
WTI's 3-month put skew least bearish in more than 2 years

Producer hedging seen abating in recent days, aiding slide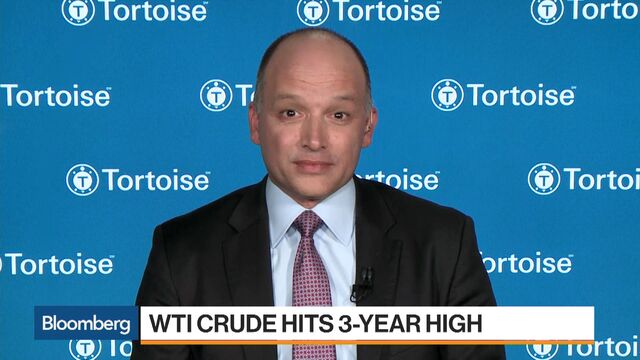 It's proving hard to find a seller in the oil market.
One might think investors are worried about record long positions and want to protect themselves against the risk of a reversal. One place they would do so is in the options market, purchasing puts that rise sharply in value if prices do indeed tumble. Oil producers often step in and use the contracts to hedge future sales, too.
Those things aren't really happening right now. The options market bias, or skew, paints the least-bearish picture in two years for U.S. crude for delivery in three months -- a key measure. That's despite a surge of 9 percent in the commodity's price in 2018 to a three-year high of more than $66 a barrel.

"It is a question more of short-term sentiment," says Harry Tchilinguirian, head of commodities strategy at BNP Paribas. "A lot of people are looking at trying to build on the momentum that we've seen, doing call spreads for example."
The turnaround in the skew comes after West Texas Intermediate broke $65 a barrel for the first time since December 2014 on Wednesday and pushed higher again today. Despite the U.S. benchmark's technical indicators flashing overbought, it remains less stretched than other global assets including the S&P 500 and the Bloomberg Dollar Spot Index. Add to that a curve structure that's pointing to dwindling global stockpiles, and oil's uptrend has had little trouble in marching on.
Moreover, producers have abated in hedging their output for the time being, according to Mark Maclean, a managing director at Commodities Trading Corporation Ltd. This time last year, producers engaged in bumper hedging activity, which kept put skews wide. More recently, volumes have been much lower -- meaning natural sellers of crude have been less active -- which has also contributed to the flattening of the skew.
"It's helped by the slowdown of producer business," said Maclean. "For all the talk of how long this market is -- it is trading like everyone is short."
Before it's here, it's on the Bloomberg Terminal.
LEARN MORE