politics
Mnuchin Pushes to Calm Currency Jitters
By , , and
Treasury chief clarified comment about benefits of weak dollar

IMF and ECB directors reiterated importance of floating FX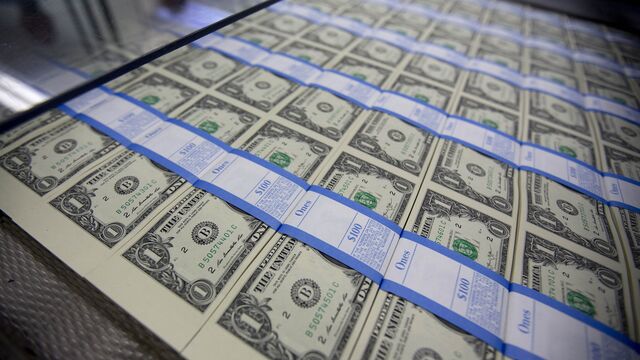 Follow our full coverage of Davos 2018 here.
Top world economic officials pushed back in Davos against fears of a currency war and stuck to a line that markets, not governments, dictate exchange rates.
U.S. Treasury Secretary Steven Mnuchin used a press conference and panel discussion in the Swiss ski resort on Thursday to clarify comments he made a day earlier when he said a weak dollar is beneficial to the U.S. economy. Those remarks sparked concerns that America is abandoning its long-standing strong-dollar policy and wants a weaker currency.

"There are benefits of where the dollar is and there are costs of where the dollar is," Mnuchin said during a panel discussion at the World Economic Forum in Davos. "It's not a shift in my position on the dollar at all. It is perhaps slightly different from previous Treasury secretaries" who have advocated for a strong dollar, he said, adding that he supports free and floating currencies.
Investors had interpreted Mnuchin's remarks on Wednesday as a green light to sell the greenback amid an aggressive push by President Donald Trump to ramp up the nation's exports. Trump landed in Switzerland early Thursday to sell his "America First" manifesto on the world stage, days after slapping tariffs on solar panels and washing machines.
'Quite Clear'
Mnuchin said the U.S. government isn't advocating for a trade war and isn't deliberately talking down the dollar. But his comments haven't stopped the currency's decline, which continued slipping against most major peers on Thursday.
"I thought my comment on the dollar was actually quite clear," he said. "It was balanced and consistent with what I said before, which is we are not concerned with where the dollar is in the short term."
The remarks came after International Monetary Fund Managing Director Christine Lagarde called on Mnuchin to clarify his position, adding that now is not the time for a currency war.

"The dollar is of all currencies a floating currency and one where value is determined by markets and geared by the fundamentals of U.S. policy," Lagarde said in a Bloomberg TV interview with Francine Lacqua and Tom Keene.
Asked about Mnuchin's comments, European Central Bank President Mario Draghi on Thursday said that advanced economies have agreed to refrain from deliberate currency devaluation.
Losses Mounted
Losses for the greenback have mounted since Trump's inauguration a year ago with the currency weakening against peers in the Group of 10 nations. Lagarde noted that U.S. tax reform signed by Trump last month is likely to lead to the dollar's strengthening in the medium term.

U.K. Chancellor of the Exchequer Philip Hammond also weighed in, expressing ease with the value of the pound while noting the soft dollar is helping U.S. exporters.
"Over the last few days we've seen the pound appreciate against the dollar quite rapidly, but it is stable against the euro. So we're very happy with where the currency is at the moment," he said.
Despite Mnuchin's rebuttal, there's a lingering suspicion that the Treasury secretary is content with the dollar's weakness, according to Ken Rogoff, a Harvard University economics professor and former chief economist at the IMF.
"In the past, the Treasury secretary has always publicly said, 'I want a stronger dollar,"' Rogoff said. "But privately they are perfectly happy when the dollar is falling at a slow rate because it makes American companies a little bit more competitive. He's really just saying what a lot of Treasury secretaries have always been thinking."
— With assistance by Mark Deen, and Jan Dahinten
Before it's here, it's on the Bloomberg Terminal.
LEARN MORE