May Rebukes Hammond for Suggesting Only 'Modest' Brexit Changes
By , , and
Britain seeks more than modest changes, No. 10 official says

Euroskeptics step up criticism as Tory divisions deepen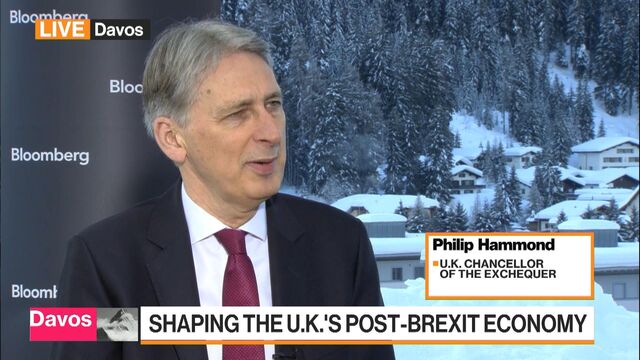 U.K. Prime Minister Theresa May's office slapped down Philip Hammond for saying he hoped Brexit would bring only modest changes, after his comments enraged the euroskeptic lawmakers May needs to stay in her job.
The chancellor of the exchequer said he wanted an ambitious Brexit deal that replicates Britain's current easy trade terms with the EU and moves the economy "very modestly apart" from the bloc. Speaking to business leaders over lunch in Davos, he also risked a joke at May's expense, mocking her ill-fated decision to call an early election last year.

But amid mounting unease from the pro-Brexit wing of the Conservative Party, an official in May's office hit back later on Thursday, distancing the prime minister from his comments.
Hammond's tenuous position in May's Cabinet has been the subject of speculation before. His unhappy foray in Davos meant her spokesman was grilled by reporters whether he retained the prime minister's confidence.
The answer was yes. Max Blain said "the cabinet is signed up to the position the prime minister has set out on Brexit in both those key speeches."
The U.K. will leave the European single market and customs union, the official said. These cannot be described as "very modest changes," the person said, speaking on condition of anonymity because the subject is sensitive. 
May has already faced down one attempted coup and so far at least there aren't enough rebel lawmakers to oust her. But she needs to find a Brexit policy that wins the support of both wings of her party. 
Remain supporters inflicted a damaging defeat on the premier last month by forcing through an amendment on her key piece of Brexit legislation. And euroskeptic Conservative lawmakers have become increasingly vocal in recent days amid signs that May's ministers are planning to remain aligned with EU rules after the divorce to facilitate trade.
Jacob Rees-Mogg, the new chairman of the European Research Group of about 60 anti-EU Tories, attacked the government's approach to the divorce on Thursday for a second time in as many days. He told the Telegraph newspaper that May will lose the support of the ERG if she tries to enter into a customs union with the EU, which would effectively strip her of her majority.
EU negotiations must not be "only a damage limitation exercise," said Rees-Mogg, who is popular with Tory members. 
"The British people did not vote for that. They did not vote for the management of decline. They voted for hope and opportunity, and politicians must now deliver it."
Read more: Post-Brexit trade agreement scenarios - Bloomberg Intelligence
Amid rumors that critics are plotting to challenge May's leadership, her office launched an operation to disown Hammond's comments and bolster her position.
Downing Street sent Health Secretary Jeremy Hunt onto BBC radio to dampen the row. He said the chancellor's remarks had "overshadowed" his main point that May wants a deep trade deal with the EU. Hunt insisted critics who think May is too "timid" as prime minister are "absolutely wrong."
Brexit Secretary David Davis is due to speak later on Friday on the transition -- the grace period starting in 2019 that businesses want but which euroskeptics fear will turn the U.K. into a "vassal" state of the EU. Davis will emphasize in his speech that the U.K. will be able to make new trade deals during transition in an attempt to ease concerns of Tory Brexit backers.
The U.K. government continues to debate what kind of final trade deal it should seek from the EU. May's team must decide their goals before March, when negotiations with the EU are due to focus on the future relationship.
Both Hunt and Davis said the plan was to prioritize winning the power to diverge from EU rules after Brexit, not necessarily to use it. It's this policy of hugging close to the EU -- however May's team spins it -- that is causing unease among euroskeptics in her party.
— With assistance by Kitty Donaldson
Before it's here, it's on the Bloomberg Terminal.
LEARN MORE