politics
May 'Appalled' to Learn of Groping at London Charity Dinner
John Micklethwait, Robert Hutton and Tim Ross
'Women are not objects,' prime minister says at Davos

She accepts education minister's explanation for attending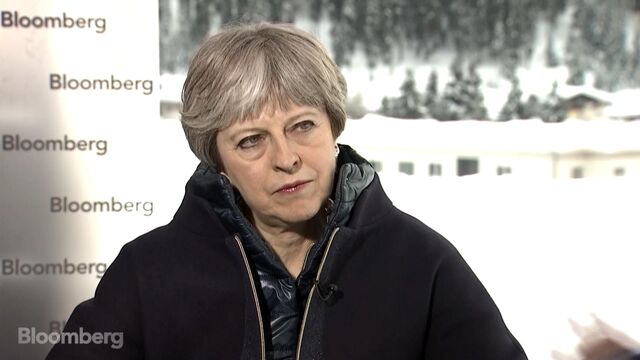 U.K. Prime Minister Theresa May has condemned the attitudes of men at the top of British business after revelations of a London charity dinner where hostesses were harassed and groped.
"I was frankly appalled when I read the report," May said in a television interview with Bloomberg's Editor in Chief John Micklethwait in Davos Thursday. "I thought that that sort of attitude of the objectification of women was something that was in the past. Sadly, what that event showed is that there is still a lot more work for us to do."
The Presidents Club, which had raised millions of pounds for charity over several decades, said Wednesday it was closing itself down after an undercover reporter for the Financial Times described how the 130 hostesses serving at the men-only event had been told to wear skimpy outfits with matching underwear and high heels. At an after-party, many of them were groped, sexually harassed and propositioned, the paper said.
The scandal comes in the wake of the Harvey Weinstein revelations that have rocked Hollywood and rippled outwards. May has lost two members of her own Cabinet to allegations of inappropriate behavior.
'About Attitudes'
The prime minister said the solution wasn't more rules. "This is about attitudes," she said. "It's about saying that actually women are not objects just to be used by men, actually we are equals, we have our own position, our own abilities."
Although most of the 360 men present at the dinner were from the worlds of politics and finance, it has impacted May's government as well. David Meller, co-chair of the charity, quit his post as non-executive director of the Department for Education. Meanwhile Education Minister Nadhim Zahawi was under pressure to explain his own presence. He said he left early because he felt "uncomfortable."
The prime minister said she accepted Zahawi's explanation. "I understand that Nadhim was uncomfortable about what happened at the dinner and left the dinner on that basis," she said.
Asked afterwards about the rules on non-disclosure agreements, which women working at the Presidents Club dinner were asked to sign, May's office said she was looking at how such agreements are applied to see if the rules needed to change.
— With assistance by Jill Ward, Kitty Donaldson, and Stuart Biggs
(
Adds May looking at non-disclosure rules in eighth paragraph.
)
Before it's here, it's on the Bloomberg Terminal.
LEARN MORE