politics
Lula's Absence Would Benefit Centrist Candidates, Meirelles Says
By
Good news is consumption growing, he tells Bloomberg in Davos

Current currency level not a problem for the economy, he says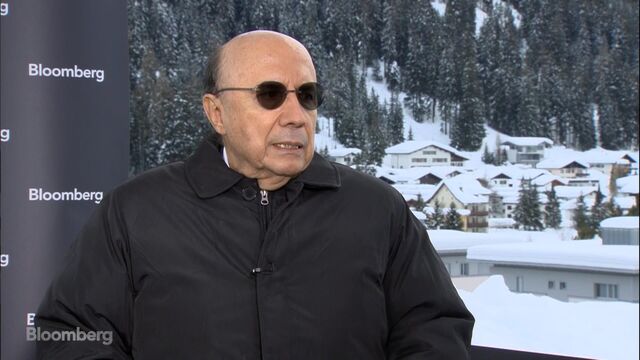 Former President Luiz Inacio Lula da Silva's likely absence in this year's election would make room for more centrist candidates, Finance Minister Henrique Meirelles told Bloomberg TV in Davos.
The 72-year-old former central bank chief, himself a potential candidate, said that "it seems Lula won't be able to run" after an appeals court unanimously upheld a graft sentence against him.
"Evidently that has an impact because a replacement might not be as popular or enjoy the same kind of voting intention he would have," Meirelles said. He added that while he thinks that the more candidates, the better for Brazil, the court decision needs to be respected.
The minister has warned that candidates on the left or right extremes of the political spectrum could win Brazil's presidential elections this year if centrist political parties remain divided. The October vote will be crucial for the future of structural reforms Meirelles has helped implement over the past couple of years under the government of Michel Temer.
The minister trails well behind in opinion polls that are currently dominated by Lula and right-wing firebrand congressman Jair Bolsonaro. Critics of Meirelles' possible candidacy have said that his political ambitions could derail efforts to approve additional reforms, particularly a controversial overhaul of the pension system.
Meirelles repeated he won't decide on his candidacy before April as he remains fully focused on approving the reforms needed to support the economic recovery. He reiterated the government mantra that the pension reform can be voted on next month, despite reports that Temer still lacks the necessary votes.
Currency Strength
Brazilian financial markets have rallied last year on hopes for the approval of structural reforms and, more recently, on bets that Lula won't be able to run for president. The real has gained 5.7 percent so far this year while the main index of the Sao Paulo stock exchange closed Wednesday at an all-time high.
Yet Meirelles downplayed the potential negative impact of a stronger currency on the economy, saying "it's not problematic." While a stronger real could hurt exports, he noted that the recovery is actually based on Brazil's large domestic market. "The good element is that consumption is growing," the minister said.
Before it's here, it's on the Bloomberg Terminal.
LEARN MORE