markets
HSBC Chairman Tucker Says Yuan Can't Challenge Dollar Dominance
By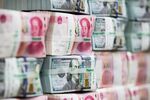 The U.S. dollar isn't going to be replaced by China's yuan as the world's top reserve currency any time soon, according to HSBC Holding Plc, one of the world's biggest trade finance banks.
"I don't think the U.S. dollar's position at this point is anything other that dominant," Mark Tucker, the bank's new chairman, said on the sidelines of the World Economic Forum in Davos, Switzerland. "It would take something catastrophic -- and we've been through some pretty significant events recently -- for that to change."
The dollar registered its steepest slide since March on Wednesday after U.S. Treasury Secretary Steven Mnuchin said "a weaker dollar is good" for U.S. trade. China's currency has rallied against the dollar almost to levels last seen before its August 2015 devaluation.
The yuan took on the mantle of a global reserve currency in 2016 when it was accepted to the International Monetary Fund's reference basket of currencies, alongside the dollar, euro, pound and the yen. Its march, however, has recently slowed down. The currency backed by the world's second-largest economy has dropped to the sixth most-used worldwide from a record fourth ranking in August 2015, according to Swift data.
The main barriers to the Chinese currency's development are its lack of convertibility and capital controls, said Tucker.
"The RMB will become more significant," he said, but "challenging U.S. dominance in trade isn't easy."
Before it's here, it's on the Bloomberg Terminal.
LEARN MORE