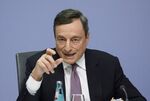 Well that didn't work out.
Mario Draghi started off Thursday's press conference with the specter of some weak-dollar jawboning by U.S. Treasury Secretary Steven Mnuchin hanging over the proceedings. It should have been a fairly benign event. But it wound up with him chastising Mnuchin for violating the common approach to discussing exchange rates, agreed at the International Monetary Fund meeting in October, which included a pledge not to make comments to spur competitive devaluations.
And that was the best the ECB President could do to talk the euro down. His only other channel for discounting the currency's gains would have been to cast doubt on the strength of the recovery, but he was in no way able, or willing, to do that. So the euro rose above $1.25, the highest since 2014.
It was a loveless affair for the bond market as well. Draghi's emphasis that stimulus would continue to come from the stock of asset purchases, regardless of when or how purchases end, sent the yield on the 10-year German bond up above 0.6 percent -- the highest level for over two years. That's the level that perennial bond bear Jeff Gundlach calls the point of "maximum bearishness." And that's what you get when Draghi breaks new ground by talking about stock -- you know the flow's about to end.
The only thing that saved the event from turning into another disaster was his clear statement that there are "very few chances" that interest rates will rise this year. That sent the euro back down, but it still wound up above where it was when the press conference started. 
Policymakers have yet to digest what the effect of the strong currency will be on price pressures in the euro area. But it's not helpful if the aim is to get inflation to accelerate. Draghi's performance today highlights how policy makers are at the mercy of foreign exchange markets. 
The only other serious question investors were looking to have answered at the conference was when officials will discuss changing forward guidance. Unfortunately for them, Draghi achieved Alan Greenspan levels of vagueness when asked about this. He seemed to imply that his favored path was to allow an extension of bond purchases once the current program ends in September. The fact that bunds didn't recoup their losses suggests that this message didn't get through.
So, March 8 it is. That's when they may -- or may not -- have the debate on the future of forward guidance. 
Before it's here, it's on the Bloomberg Terminal.
LEARN MORE