Earliest China Economic Data Signal Brighter January Outlook
Bloomberg News
Sales managers and financial experts both are more optimistic

Official factory gauge probably maintained momentum this month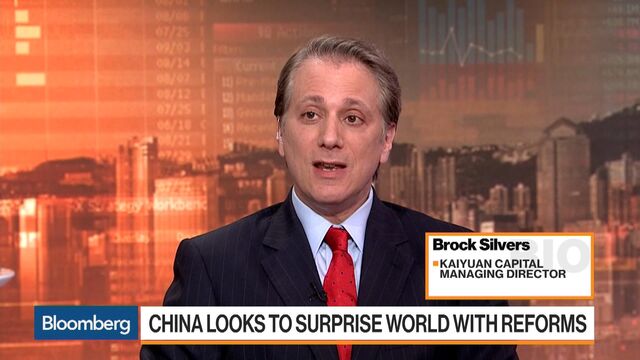 After capping its first full-year acceleration since 2010, China's economy looks to be keeping some of that momentum intact this month, according to the earliest indicators.
Sales managers are the most upbeat since July, financial experts are more optimistic and satellite imagery signals that manufacturing conditions are improving for the first time in four months. It's not all good news though, as the outlook is slightly dimmer for smaller enterprises and sentiment in the steel business has been deteriorating, surveys show.
Stable growth is giving President Xi Jinping more room to tackle financial risk, one of Beijing's top goals for the coming three years along with curbing pollution and poverty. Those aims, coupled with intensifying scrutiny of local government data after reports of fabrication and excessive borrowing, are expected to take a toll on growth this year.
Economists surveyed by Bloomberg project the expansion will slow to 6.5 percent this year from last year's acceleration to 6.9 percent. The official factory gauge probably maintained momentum this month with a reading almost in line with December's level, according to forecasts before that data due for release Wednesday.
Here's what private indicators show:
Sales Managers
A gauge of sentiment among sales managers rose to a six-month high of 52.5 in January from 52.1 in December, according to a survey by London-based World Economics Ltd. Readings above 50 signal conditions are improving.
"The solid start to 2018 is good news as China's authorities continue to grapple with their long term task of turning their economy from an industrial behemoth to consumer led," Chief Executive Ed Jones wrote in a report. January data covering all industries show "strong overall growth for the month along with rising prices and growing staffing levels."

Satellite View
Manufacturing regained momentum, according to the China Satellite Manufacturing Index, which rebounded to 51.8 in January from 50.8. The gauge published by San Francisco-based SpaceKnow Inc. tracks commercial satellite imagery to gauge activity levels across thousands of industrial sites.
Smaller Businesses
Standard Chartered Plc's Small and Medium Enterprise Confidence Index softened for a second month, falling to 53.8 in January from 55.3 in December, according to the bank's survey of hundreds of companies nationwide. A gauge of growth momentum declined.
"Weaker demand has started to weigh on production, while investment appetite has been sluggish," economist Shen Lan wrote in a report. More headwinds and less accommodative policies are poised to weigh on the economic expansion in the first quarter, she added.
Financial Experts
Sentiment among international financial market experts improved after hitting the lowest level since February 2016. The survey by the China Economic Panel -- a joint project of the Centre for European Economic Research in Mannheim, Germany, and Fudan University in Shanghai -- showed 12 month expectations improved to 1.1 from minus 10.7 in December.
The January survey also showed a less optimistic forecast for the economic expansion, with the projection ticking down to 6.6 percent from the prior month's 6.7 percent reading. "Survey results thus continue to paint a fairly positive view of China's further economic development," Michael Schroeder, a senior researcher at the center, said in the statement.
Steel Mills
The S&P Global Platts China Steel Sentiment Index slumped to 21.95 out of 100 points in January from 32.82 in December. The gauge, based on a survey of between 75 and 90 China-based market participants including traders and steel mills, was the lowest since June 2016 due to expectations of slower domestic orders over the next month, the report said.
"Participants are uncertain about the future market direction, particularly as there's already been so much steel price volatility," wrote Paul Bartholomew, a senior managing editor at S&P in Melbourne. "The outlook for domestic orders is extremely bearish, with most mills and traders expecting that the strong market in December is unlikely to be sustained."
— With assistance by Miao Han
Before it's here, it's on the Bloomberg Terminal.
LEARN MORE