markets
Coldest Blast in 48 Years Hits Tokyo as Power Prices Hold Gains
By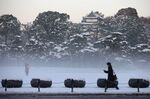 Power prices remained near the highest in three years after the coldest temperatures since 1970 struck Tokyo.
Japan's 24-hour average spot electricity price for delivery Jan. 26 slipped 0.8 percent to 18.11 yen per kilowatt hour, according to data from the Japan Electric Power Exchange compiled by Bloomberg. Prices in the previous session rose to the highest since Dec. 18, 2014.
The temperature in Tokyo fell to -4 degrees Celsius (24.8 degrees Fahrenheit) at 6:20 a.m. on Thursday, the coldest since January 1970, according to data from the Japan Meteorological Agency. The weather boosted demand for electricity for heating and Tokyo Electric Power Company Holdings Inc., known as Tepco, said it expects its reserve rate to fall to as low as 3.4 percent.
DAY-AHEAD SPOT PRICES
9am spot price -4.1% to 25.91 yen/kWh
12pm spot price +3.2% to 10.59 yen/kWh
5pm spot price +5.1% to 32.6 yen/kWh
Prices ranged between 9.59 yen/kWh and 36 yen/kWh
East Japan spot power traded at 1.09 yen premium to prices in west

East Japan avg spot price +2.8% to 18.75 yen/kWh
West Japan avg spot price -4.1% to 17.67 yen/kWh

NOTE: Avg based on Bloomberg calculations using JEPX data
Unplanned outages listed on JEPX website include:

Jan. 19: JR East's gas-fired 187.4MW No. 2 unit at its Kawasaki facility. No restart date set
Jan. 16: Tepco's fuel oil-fired 1,000MW No. 6 unit at its Kashima facility. No restart date set
Jan. 15, 2017: Tepco's 350MW No. 3 unit at its Imaichi hydroelectric facility. Set to restart Sept. 30, 2018

For Japan outage stories, click here
NOTE: 4 of Japan's 40 operable reactors are online
WEATHER
Avg temperature forecast +0.9C to 0.3C on Jan. 26 as of 10:35 am in Tokyo: Customweather
5-year median for Jan. 26 is 3.6C
Feb. 1 temperature forecast 3.73C, +4.30C from Jan. 25
Cloudy weather forecast for most of Japan on Jan. 26, according to JMA
DEMAND FORECAST
Nationwide power demand on Jan. 26 to range between 106,948MW and 149,341MW, according to a Jan. 18 forecast by OCCTO
Demand on Jan. 27 to range between 102,918MW and 132,225MW: OCCTO
MARKET NEWS
Tokyo Temperature Extends Plunge to Coldest Since 1970: JMA
Electricity Flow to Tokyo Maxes Out Amid Supply Crunch: Chart
Before it's here, it's on the Bloomberg Terminal.
LEARN MORE