markets
Blindsided GE Investors May Stay Away Until Turnaround Happens
By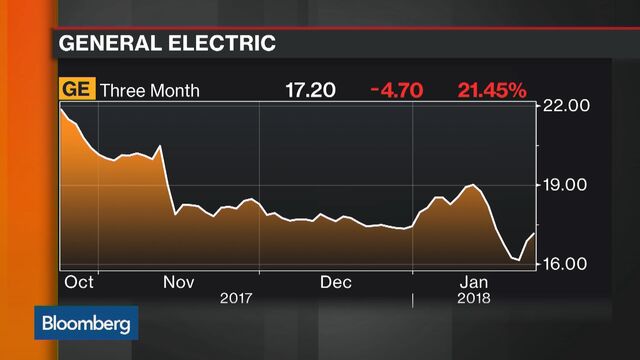 The year had started well for General Electric investors, seemingly rewarding them for sticking with the manufacturer through a disastrous 2017. Yet the company is making it harder to stay by its side as a steady stream of bad news has sent the shares down 14 percent over the past 10 trading days.
The industrial behemoth reported lackluster results on Wednesday but reaffirmed its 2018 forecast, spreading an initial cheer in the market that quickly evaporated as GE disclosed it was being investigated by the U.S. Securities and Exchange Commission related to a $6.2 billion charge on an old insurance business. Analysts noted that the probe is now another negative catalyst for the stock, adding to woes that the company's markets are still deteriorating and will continue to weigh on its financial results.

GE fell 0.5 percent to $16.37 at 9:35 a.m. New York time, adding to Wednesday's 2.7 percent loss.
Goldman Sachs, Joe Ritchie
(Neutral, price target cut to $16 from $18)
Wednesday's share underperformance was warranted as end markets continue to deteriorate, consensus estimates need to be revised down further and the SEC investigation creates another potential negative catalyst, Ritchie wrote in a note.
"There is no quick fix to GE's end market or cash challenges in Power, and while management's restructuring actions should help, we believe it could take a few quarters before we see order/EBIT stabilization in the segment."
RBC, Deane Dray
(Sector perform, price target cut to $17 from $20)
The initial celebration triggered by the reaffirmed 2018 guidance was "unexpectedly blindsided" by the disclosure on SEC investigations, Dray wrote.
"While it is uncertain how these investigations will play out, this development adds a negative overhang that is likely to keep many investors on the sidelines for now."
The turnaround in GE's power business is likely to be protracted, he said. The "industry remains challenged by secular headwinds and management expects 2017 to end with less than 35 gigawatt awarded globally, the lowest since 2002."
William Blair, Nicholas Heymann
(Outperform)
The disclosure of regulatory investigations overshadows better-than-targeted cash generation and accelerated asset sales.
"Once the regulatory reviews and shareholder lawsuits are dismissed or settled, we believe GE's focus on better-than-expected free cash flow and accelerated pace of asset sales are likely to enable the shares to return to a 'normalized' valuation of 20 times trough 2018 adjusted EPS of $1.00-$1.07, or a valuation in the $20-$22 range."
"The most important value drivers for GE's shares in 2018 are likely to be expedited resolution of regulatory reviews and shareholder lawsuits."
Melius, Scott Davis
(Buy-accumulate, price target $28)
It is "very typical when a stock falls this hard and new disclosures made, for the SEC to step in."
"We can't be certain that prior management purposely misled investors, but we certainly believe there were ethical lapses that deserve attention."
"The positive is that new management can use this as another catalyst to drive cultural change."
Before it's here, it's on the Bloomberg Terminal.
LEARN MORE