markets
Blankfein Signals Goldman Fixed-Income Team to Stay in Place
By
Blankfein Signals Goldman Fixed-Income Team to Stay in Place
By
'Right people' are running the business, CEO says in Davos

Firm's bond-trading revenue plunged 50% in fourth quarter
Lloyd Blankfein signaled he's not considering a management overhaul for Goldman Sachs Group Inc.'s fixed-income unit, even after the business turned in its worst performance in more than a decade.
"We have the right people running the business," the chief executive officer said Thursday in a Bloomberg Television interview at the World Economic Forum in Davos, Switzerland. "Here or there we may have somebody where we could find somebody better. But people have said a lot of things about Goldman Sachs. I never heard that we lack for talent."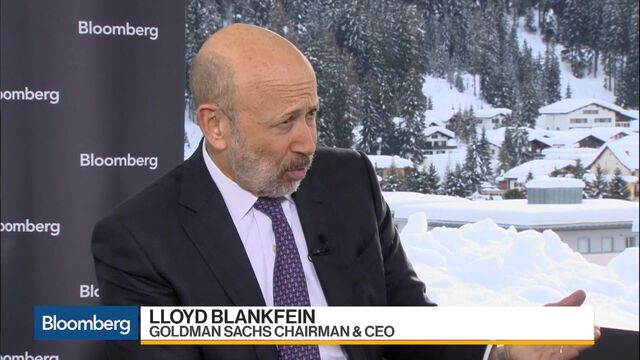 Goldman Sachs in November elevated existing fixed-income executives Jim Esposito and Justin Gmelich to newly created roles as co-chief operating officers of the unit after stumbles during 2017 called its strategy into question. They report to Pablo Salame, Isabelle Ealet and Ashok Varadhan, who oversee trading. Fourth-quarter revenue from bond trading tumbled 50 percent to $1 billion, the lowest level since the financial crisis.
"We could have executed better" in fixed income, Blankfein said, while defending Goldman Sachs's overall strategy in an environment in which competitors are also struggling with low volatility. "Our FICC business and our commodity business is a jewel," the CEO said, referring to the fixed-income, currencies and commodities unit.
In a wide-ranging interview, Blankfein said the U.S. tax overhaul will make banks more profitable, with 15 percent return on equity "highly possible." Goldman Sachs's ROE was 10.8 percent for 2017, excluding a one-time expense related to tax reform.
Wall Street won't return to the 30 percent levels that were common before the financial crisis because regulators have forced the industry to fund itself with more capital, pushing returns lower, he said.
"Some people might like that outcome because, to the extent you have a lot of capital, you are safer or sounder," he said. "But you have to be careful that the returns get over what people think of as the minimum return they need to invest in your institution, or else you won't have banks."
— With assistance by Erik Schatzker
(
Updates with trading managers in third paragraph, comment on returns in last paragraph.
)