politics
Berlusconi Sees Tajani as 'Beautiful Choice' for Italian Premier
By
EU Parliament president seen by media tycoon as loyal to him

Former premier says center-right has two other names for role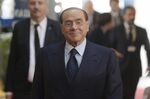 Italy's former prime minister Silvio Berlusconi said the current president of the European Parliament Antonio Tajani would be a "beautiful choice" for the leadership of Italy's government after the March 4 elections.
"Should it be possible to have Antonio Tajani as premier, it would be a beautiful choice. Antonio Tajani was with me among the five founders of Forza Italia 23 years ago. He is a person who always proved to be absolutely and totally loyal to our principles and ideas as well as to Silvio Berlusconi," the media mogul said on Thursday in an interview with Rtl 102.5 radio.
Berlusconi, 81, who earlier this week was in Brussels for meetings with European Commission President Jean-Claude Juncker and leaders of the European People's Party, also said that the 64-year-old Tajani is "very well esteemed at the European level."
The tycoon-turned-politician added that he discussed the option of Tajani as candidate for the premiership with the other leaders of the center-right bloc's main parties, the Northern League and Brothers of Italy, and that his coalition has "two further names in store" for the role whom he declined to identify.
Berlusconi, who is barred from holding public office following a tax-fraud conviction, said that he has "no political ambitions" and that he would be happy "to be able to win the elections and choose together with my allies the candidate for the premiership and the other government members."
Before it's here, it's on the Bloomberg Terminal.
LEARN MORE