markets
Barclays CEO Staley Says Annual Revenue Will Have Barely Moved
By and
CEO expects trading revenues to rise in 2018 amid volatility

Says Trump's policies are a "new phenomenon" for banking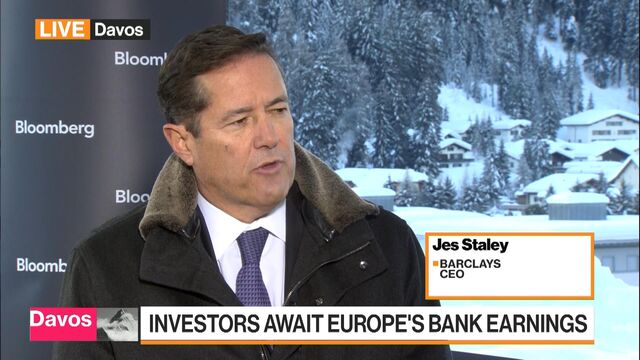 Barclays Plc Chief Executive Officer Jes Staley said that revenue at the British bank was "roughly flat" in 2017 and anticipates better prospects for trading this year, in a wide ranging interview at the World Economic Forum in Davos.
Staley also signaled that he expects revenue at Barclays's investment bank to pick up in 2018 as interest rates rise in the U.S. and the economy in the European Union strengthens.
"We are going to see renewed volatility in the financial markets and I would anticipate that happens in 2018, and that will be very positive for our trading business," Staley told Bloomberg Television's Francine Lacqua and Erik Schatzker.
Staley's plan to keep a "bulge bracket" investment bank has been criticized by analysts after revenue from trading stocks, bonds and currencies fell 31 percent in the third quarter, the worst markets performance in his two-year tenure. The CEO has repeatedly said the investment bank has to take on more risk and authorized the hiring of numerous, and well-paid, hedge-fund traders, to manage different desks.
Barclays's shares have fallen 9.7 percent in London trading over the past 12 months, making it one of the worst-performing European banks in the period. The Bloomberg Europe Banks and Financial Services Banks Index has jumped 10 percent in that timeframe.
'Front Foot'
The London-based lender isn't the only institution still struggling to find its footing in an industry whipsawed by regulations. After President Donald Trump signed an overhaul of the U.S. tax code late last year, several European banks with U.S. operations warned investors that they will be impacted. Deutsche Bank AG said it will record a third consecutive annual loss after taking a 1.5 billion-euro ($1.9 billion) hit to account for the tax change, while Barclays has said it will take a charge of about 1 billion pounds ($1.4 billion).
Staley said Trump's push to roll back restrictions imposed on the banking industry after the global financial crash of 2008 may also roil the sector.
"Post financial crisis, there was a consensus in major economies that we need to re-regulate financial markets, but do it in a way where we maintain parity across the markets so no institution could arbitrage one regulator against the other," he said. "But now
it does seem that the U.S. is willing to be on the front foot in making the U.S. market competitive. That's a substantial new phenomenon."
The former JPMorgan Chase & Co. executive is also under pressure from investigations by the U.K.'s Financial Conduct Authority and New York state's Department of Financial Services into his attempts to unmask a whistle-blower. The FCA's probe is expected to be completed early this year. In 2017, Barclays's board found that Staley "honestly, but mistakenly, believed" he was permitted to try and reveal the identity of a person expressing concerns about a bank executive.
"For the last 10 months, I have been given the great opportunity to be CEO and exercise my role of running Barclays," Staley said. "I'm not allowed to talk about the FCA investigation. Let's hope it comes to an end soon."
Turning to another pending legal matter, the U.S. Department of Justice's case on the bank's sale of mortgages securities a decade ago, Staley said he hoped officials would offer Barclays the same terms U.S. lenders received.
"We want a settlement, but for us what's important is we want to be treated proportionately to how the U.S. banks settled," Staley said.
Before it's here, it's on the Bloomberg Terminal.
LEARN MORE