White House Caps Confusing Currency Day With Stable Dollar Line
By and
Sanders tries to clarify as Mnuchin sows confusion in Davos

Questions arise about whether U.S. still favors strong USD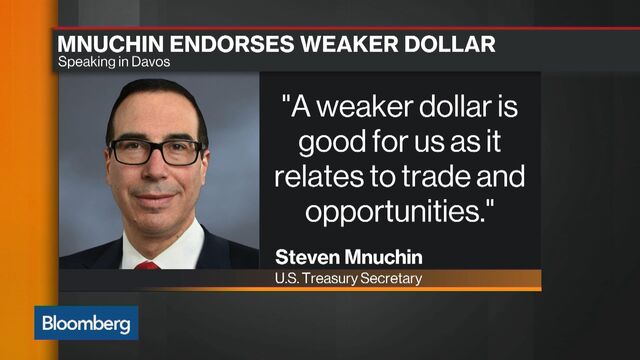 The White House asserted its control over U.S. currency policy as Press Secretary Sarah Sanders said a "very stable dollar" reflects the strength of the American economy, capping a day of oscillating messages that spanned two continents.
"Currently we have a very stable dollar because of how well the U.S. is doing, and it's as powerful as it's ever been," she said Wednesday at a briefing in Washington. "We believe in free-floating currency. The president has always believed in that."
While the world's largest economy is indeed going strong, the dollar's 10 percent decline since President Donald Trump took office belies her assertion that the currency is very stable. The losses have steepened of late: The Bloomberg dollar index is in the midst of a seven-week skid.
On Wednesday, the dollar fell to a three-year low after Treasury Secretary Steven Mnuchin kicked off the dollar-policy doubts from 4,000 miles away. Speaking in the chic alpine town of Davos, Switzerland, he said a weaker U.S. currency benefits trade and that he's not concerned by its value over the short run. The longer-term strength of the dollar is an indicator of the economy's health, he added.

It's an observation Mnuchin has made several times to a domestic audience since becoming Treasury secretary last year. But his ambivalence to the dollar's drop took on added resonance on a bigger stage at the elite global gathering in Davos.

Asked for a response to Mnuchin's remarks, Treasury's press office pointed to the Sanders statement.
For a quarter-century, U.S. Treasury chiefs have espoused the benefits of a strong dollar -- so it may be jarring for investors to hear a U.S. Treasury secretary discuss the merits of a weaker one. But it fits with the Trump administration's stance on trade policy aimed at supporting exporters and reducing the nation's gaping trade deficits.
Trump's Preference
Even Trump has signaled his preference for a softer dollar. He said in an interview with the Wall Street Journal in April that because of confidence in him as president, the currency was rising, but that such strength could become harmful to the economy.
U.S. Commerce Secretary Wilbur Ross, also speaking at the World Economic Forum in Davos in an interview with CNBC, seemed to backpedal on Mnuchin's comments. He said investors overreacted and that fellow Cabinet officials in no way advocated a shift from America's long-standing strong dollar policy.
Despite the attempts at clarification, some currency analysts were left scratching their heads.
"The U.S. dollar has been responding much more to bad news than good news for weeks," Alan Ruskin, global co-head of foreign-exchange strategy at Deutsche Bank. "The Treasury secretary should have been alert to this vulnerability -- if he cared."
— With assistance by Jennifer Epstein
Before it's here, it's on the Bloomberg Terminal.
LEARN MORE