Wetherspoon Boss Says U.K. Lobbies Mislead Public on Brexit Cost
By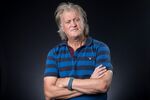 JD Wetherspoon Plc Chairman Tim Martin said business groups warning of a Brexit-induced spike in costs are spreading misinformation, arguing that food prices will actually fall after the U.K. leaves the European Union.
In the latest of a series of quarterly commentaries on Brexit, the pub boss said the Confederation of British Industry and the British Retail Consortium are "trying to fool the public" and "bringing business into disrepute" by warning of a rise in food prices. Business leaders have said the U.K. needs a transitional agreement when the country leaves the bloc to smooth trading and avoid further increases.
"These factually incorrect scare stories seem to be designed to convince the public that a deal is necessary to avoid a 'cliff edge,' " Martin said in a statement. "In fact, the cliff edge is a myth."
Companies including Dove soap maker Unilever and French distiller Pernod Ricard SA have raised prices in the U.K. to offset sterling's weakness since the Brexit vote. Grocers Tesco Plc and J Sainsbury Plc are cutting thousands of management positions because of tough competition and wage pressure, after a weak holiday season for many U.K. retailers.
Despite Martin's optimistic outlook about the U.K.'s post-Brexit prospects, Wetherspoon said it faces significant price pressures in the second half of this year, including higher labor costs and property taxes. Any Brexit-related burden can be avoided if U.K. lawmakers eliminate tariffs on food imports from beyond the EU, he said.
Before it's here, it's on the Bloomberg Terminal.
LEARN MORE