Wall Street Chiefs Don't Think Central Bankers Will Ruin Their Party
By and
Morgan Stanley's Gorman says Fed rate increases 'healthy'

Dimon 'really not worried' about central bank tightening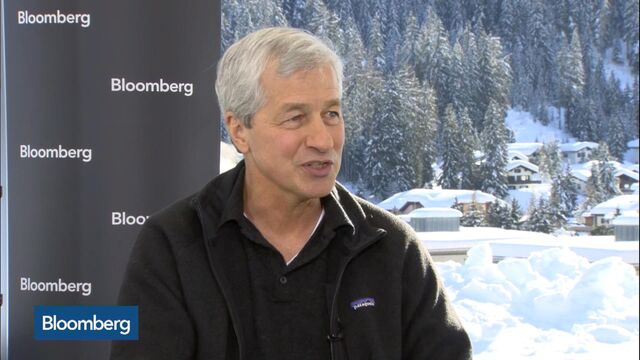 Wall Street is betting incoming Federal Reserve Chairman Jay Powell and fellow central bankers can pull back the punch bowl without spoiling the party too much.
Speaking at the annual meeting of the World Economic Forum in Davos, Switzerland, finance chiefs said in interviews on Wednesday that they expected central bankers to be able to tighten monetary policy while avoiding a crash in markets or the global economy.
"People are worried about the number of Fed increases that might happen this year,'' James Gorman, chief executive officer of Morgan Stanley, told Bloomberg Television. "I'm not, I think it's healthy.''
JPMorgan Chase & Co. CEO Jamie Dimon said he was "really not worried'' about central banks hitting the brakes too hard as he argued a combination of strong growth and slightly higher inflation would leave them with no choice but to raise interest rates.
"They're very slowly taking the punch bowl away,'' said Dimon.
Central banks are already preparing to withdraw stimulus this year by the most in a dozen years as the world economy enjoys its strongest upswing since 2011 and inflation accelerates. Surging stocks suggest not every investor has tuned into that message, leaving some Davos delegates to warn there is possibly too much complacency in markets especially given the risk of an inflation shock.
Warnings
"The Fed will not only tighten at a rate which is faster than is discounted in the curve, I think they'll tighten at a rate which is probably faster than they are signalling,'' Ray Dalio, the billionaire founder of hedge fund Bridgewater Associates Inc., told Bloomberg Television.
At Citigroup Inc., CEO Michael Corbat said financial markets have never seen a reduction of stimulus like the one that lies ahead. Central banks responded to the financial crisis and recession of a decade ago by cutting benchmark borrowing rates to zero and buying bonds via so-called quantitative easing.
But he sees Powell following incumbent Janet Yellen's "mindful'' approach when he takes over next month.
"What we've seen so far are central banks that have been committed to the long cycle, they're fully invested in QE and they're not going to yank that liquidity out and cause disruption in the market,'' he said. "One of the risks in there is that not just the Fed but other central banks get behind the curve in terms of raising rates and containing inflation and inflation gets away from us.''
'Very Gentle'
As for the European Central Bank, UBS Chairman Axel Weber predicted President Mario Draghi will be "very cautious'' in ending quantitative easing and eventually raising rates. Its officials meet on Thursday although no change in policy is expected.
"The ECB probably will not want to rock the boat and be very gentle in how they change the outlook,'' he said.
"The question is will the central banks continue their current very muted path of interest rates hikes or will they fall behind and have to start increasing the pace," he added.
Harvard University Professor Ken Rogoff said markets could be undermined if tightening by the Fed drew the ire of President Donald Trump.
"There could be lot of tension between Donald Trump and the Fed if the stock market falls for some reason and they need to raise interest rates,'' said Rogoff. "We could suddenly see tweets about Jay Powell in the middle of the night."
— With assistance by John Micklethwait
Before it's here, it's on the Bloomberg Terminal.
LEARN MORE