U.S. Sanctions on North Korea Target Entities With Ties to China
By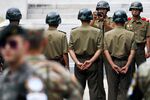 The Trump administration announced a new round of sanctions targeting North Korea's crude oil industry and shipping companies as well as individuals or entities in Russia and China, two countries the U.S. says needs to do more to rein in leader Kim Jong Un's weapons program.
The U.S. Treasury Department on Wednesday announced sanctions against nine entities, 16 individuals and six vessels "in response to North Korea's ongoing development of weapons of mass destruction (WMD) and continued violations of United Nations Security Council Resolutions (UNSCRs)."
"Today's sanctions target agents of the Kim regime financing or otherwise supporting North Korea's WMD programs and other illicit businesses," according to a Treasury statement.
The sanctions include ten officials with the Korea Ryonbong General Corporation, some of whom are based in China, Russia and Georgia. They also targeted individuals linked to financial institutions including Daesong Bank and Kumgang Group Bank. Two companies -- China-based Beijing Chengxing Trading Co. and Dandong Jinxiang Trade Co. -- allegedly exported over $68 million of goods to North Korea from 2013-2017, the statement said.
Also sanctioned is North Korea's Ministry of Crude Oil Industry.
— With assistance by Saleha Mohsin
Before it's here, it's on the Bloomberg Terminal.
LEARN MORE