Trump Says He's Weighing Path to Citizenship for 'Dreamers'
By and
President also says he might extend DACA termination date

Trump makes remarks at impromptu briefing at White House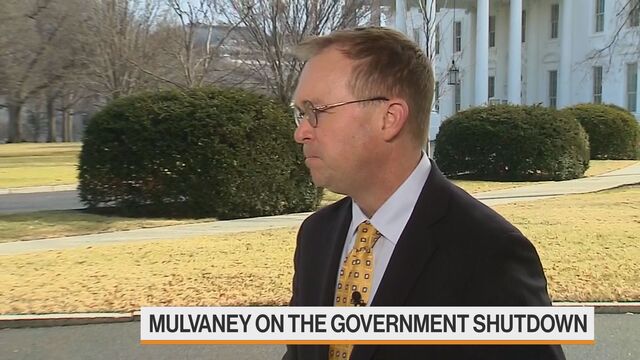 President Donald Trump said he's open to giving young undocumented immigrants a path to citizenship in an immigration deal the White House will be negotiating with Congress.
There would be a 10- to 12-year process for those now protected from deportation under the Deferred Action for Childhood Arrivals to get citizenship if they work and maintain a clean criminal record, Trump told reporters Wednesday at an impromptu appearance at a White House briefing.
"We're going to morph into it. It's gonna happen at some point in the future, over a period of 10-12 years," Trump said. "I think it's a nice thing to have the incentive of after a period of years being able to become a citizen."
An administration official, who briefed reporters on condition of anonymity, later clarified that the path to citizenship is a discussion point rather than a planned policy proposal.
With negotiations on immigration legislation proceeding slowly, Trump said he might extend the March 5 date he'd originally set to end the Obama-era DACA program, which right now covers about 690,000 immigrants brought to the U.S. illegally as children, if Congress hasn't acted by then. But he added that was not a guarantee. A district judge has blocked Trump's decision to scrap DACA and the issue may end being resolved by the Supreme Court.
Giving Assurances
The group, known as dreamers, "should not be concerned" about their fates, he said. "We are going to solve the problem. It's up to the Democrats but they should not be worried."
Trump repeated his previously stated conditions for a immigration deal: curtailing family preferences in immigration, abolishing the visa lottery program, and building a border wall.
The White House plans to release a "legislative framework" for an immigration plan on Monday that will address those concerns, press secretary Sarah Huckabee Sanders said in a statement earlier Wednesday.
Senators Meet
Trump spoke shortly after a bipartisan group of senators met to work out a process for developing and then shepherding immigration legislation through the House and Senate, where there are deep divisions over how to address the issue. The three-day government shutdown that ended Monday helped jump-start the immigration talks.
Lawmakers are preparing for a likely floor debate on immigration if they can't agree on a plan by Feb. 8, the next deadline when current government funding authority expires.
Second-ranking Senate Republican John Cornyn of Texas is working with No. 2 Senate Democrat Dick Durbin of Illinois on a compromise solution. Cornyn said Wednesday he thinks that group will provide a "framework" for a bill that could move through the Senate.
However, House Speaker Paul Ryan, a Wisconsin Republican, said his chamber wouldn't be bound by any decisions made in the Senate. Any measure that moves through the House likely would have to have Trump's firm backing.
Republican Senator Lindsey Graham of South Carolina said Trump's statement in support of a path to citizenship for DACA recipients "will allow us to solve a difficult problem" and help get an agreement on strong border security measures.
Cornyn said he wants a 10-year, $25 billion border security plan, with the money possibly set aside in a trust fund, not just authorized and paid for later.
— With assistance by Justin Sink
Before it's here, it's on the Bloomberg Terminal.
LEARN MORE